Login
Log in if you have an account
Dont have an account? Register
How to Build a Home Apothecary: using dried herbs, tinctures, & essential oils
03 Apr 2022
Our  home apothecary is essential in our household.  It is quite amazing how many ailments you can treat at home with the right tools and knowledge.  In our house, we have two preschoolers who are basically walking and talking petri dishes.  This is why we like to stock our shelves with some herbs that are also safe for children. In these lists we are mainly going to focus on preserved herbal medicines, but keep in mind, the herb garden is a great way to grow your medicinal plants too!
Dried Herbs:
Having  dried herbs is a must for your home apothecary.  Not only can you make herbal tea infusions and decoctions, but you can tincture, and make infused oils from them to add to salves, lip balms and lotions.  Not only is it important to keep some individual herbs on hand, but also have some pre blended for a quick tea.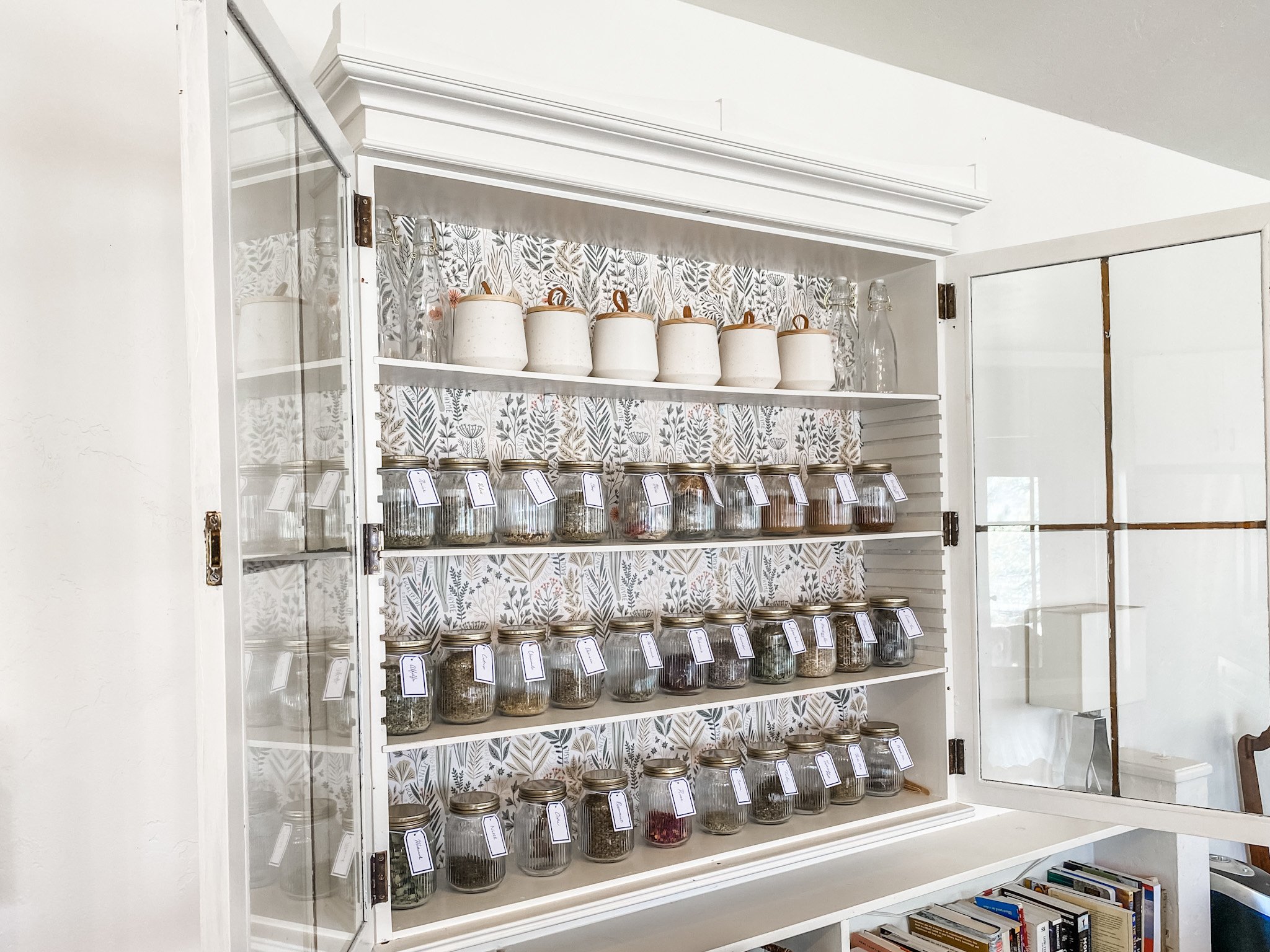 Here is a list of the 20 herbs we recommend to get started with:
Herbal Tea Blends:
We like to have at least a few herbal tea blends pre-made to make a quick tea.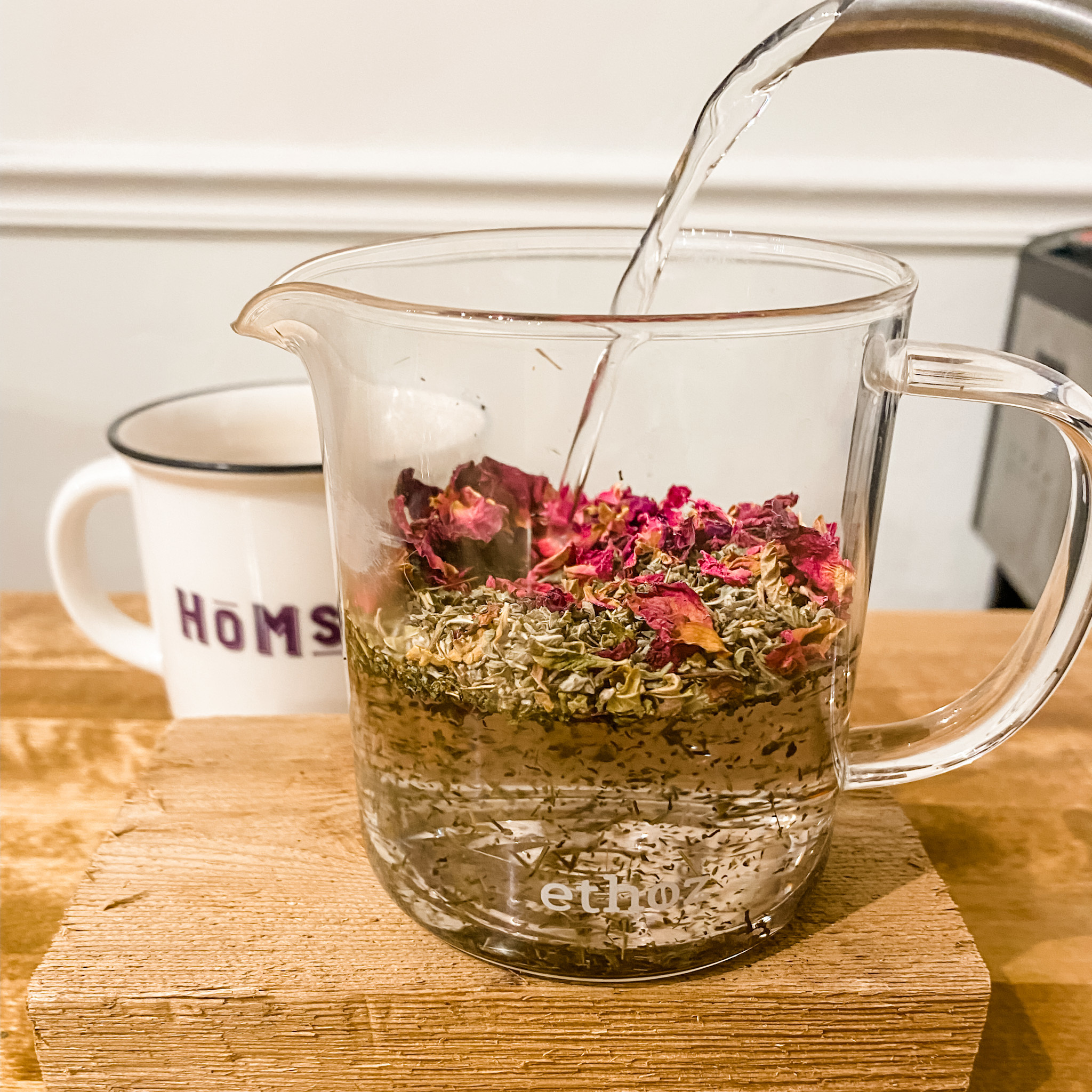 Tinctures:
We love tinctures because they are highly bioavailable,  easy to use, and have long shelf lives.  They can also be made easily and can be blended to make formulations.  Here is a list of our recommended single tinctures to have on hand:
Ashwagandha 

Passionflower 

Tulsi 

Lemon balm 

Burdock 

Echinacea 

Elderberry Glycerite 

Reishi 

Valerian 

Oregon Grape 
Tincture Blends:
Having pre-blended formulas makes it easy if you are needing to mend an ailment and grab something to take with you on the go. Check out what we typically have in our medicine cabinet.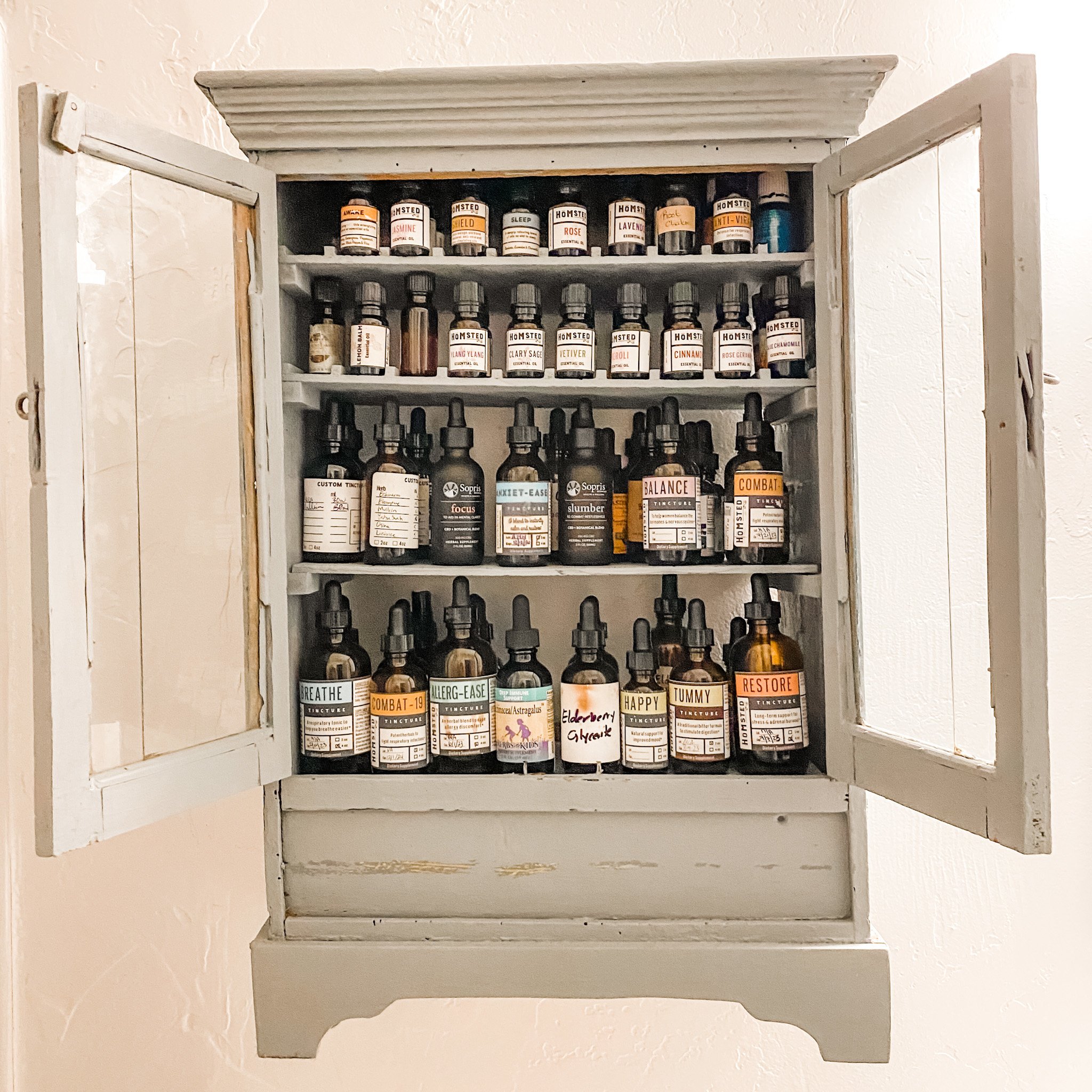 Essential Oils:
Essential oils also play an important role in the home apothecary.  You can defuse them into the air, you can apply to the skin with a carrier oil, you can add them to your handmade cleaning products, you can add them to your lotions, balms and salves.  As herbalists we have studied at great length the best way to use essential oils is as an aromatic or topically, not internally as some might suggest.  Due to this, having an essential oil diffuser and carrier oils to dilute the essential oil before topical use is a must to have in your medicine cabinet if essential oils are going to be part of it.  Here is our list of top oils we like to have on hand: 
Essential Oil Blends:
Essential oils are also great to have some blended up. Here are a few recommendations to have on hand:
Carrier Oils:
Carrier oils are an important ingredient to have on hand when making medicine or when diluting essential oils.  For more information about carrier oils check out our blog: Ultimate Guide to Carrier Oils. 
Other ingredients suggested for medicine making:
Beeswax for salve and lip balm making

Salts for making calming or detoxifying baths

Clays to extract bug bites and bee stings

Emulsifying wax if you plant to make lotions or creams

Butters such as shea butter or cocoa butter for making lotions, creams or balms
Supplies we suggest for medicine making:
BOOKS

!  Education in this field is key!  It helps you determine what you need in order to have the best outcome.

Double boiler for lotions and salves

Cheesecloth for straining herbs

Infuser or french press for tea making

Pan with a lid for decoctions

Electric mixer for lotions

Plenty of mason jars for tincturing and oil infusions
As with any herbal treatment, we always recommend you see professional advice before using herbal medicine. And, as always, if your symptoms are persistent, please consult your physician.  This is for educational purposes only.
What are your favorite items in your home apothecary? Be sure to let us know in the comments below! Or even better, tag us @homsted_lifestyle to show us!!