Login
Log in if you have an account
Dont have an account? Register
A Sip Around the World: Tea Traditions Part 2
29 Mar 2023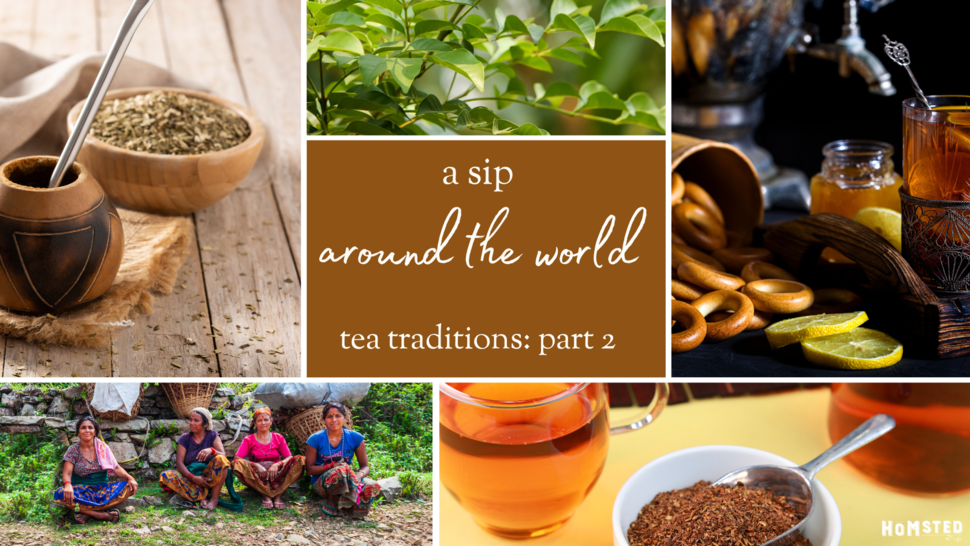 As we discovered in our part 1 of this series, tea is a common thread in humanity. As the second most consumed drink after water, tea plays a major role in many cultures whether it is imported or grown locally.  In this blog we will discuss teas from Nepal, Russia, South Africa and South America.
NEPAL
When I went to Nepal I brought home more loose leaf tea than anything else.  The flavors were so rich and unique and exploring the tea markets is one of my fondest memories during my month exploring the Himalayas.  Although it is said that the Camellia sinensis bush was not introduced to Nepal until the late 1800's, production really began in the 1950's.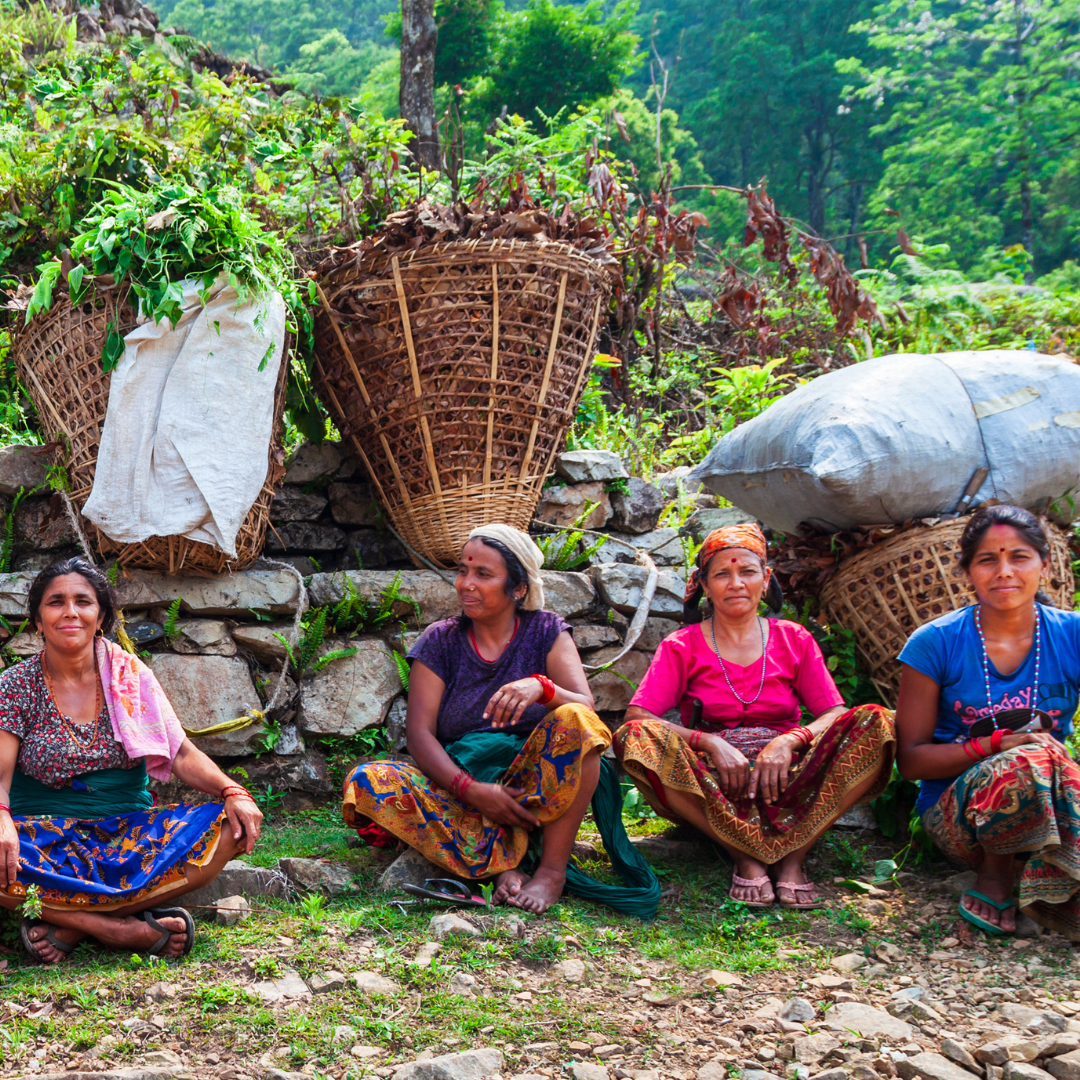 What tea to drink: 
When it comes to tea from the Himalayas, nothing beats Darjeeling. Since tea bushes have no concept of borders, Darjeeling style teas reach far beyond the bounds of West Bengal in India. Nepal is another region known to grow a high quality variety of this style of tea. Darjeeling tea gardens are planted with both the China bush and the Assam bush giving it its unique flavor.  
Another popular tea in Nepal is the Everest hand rolled tea.  Because it is grown at such high elevations it has such a short growing season so the leaf does not have time to become harsh or bitter making for a smooth tea. 
What to eat with the tea: Many Nepali people enjoy tea with a side of Roti bread (similar to a tortilla).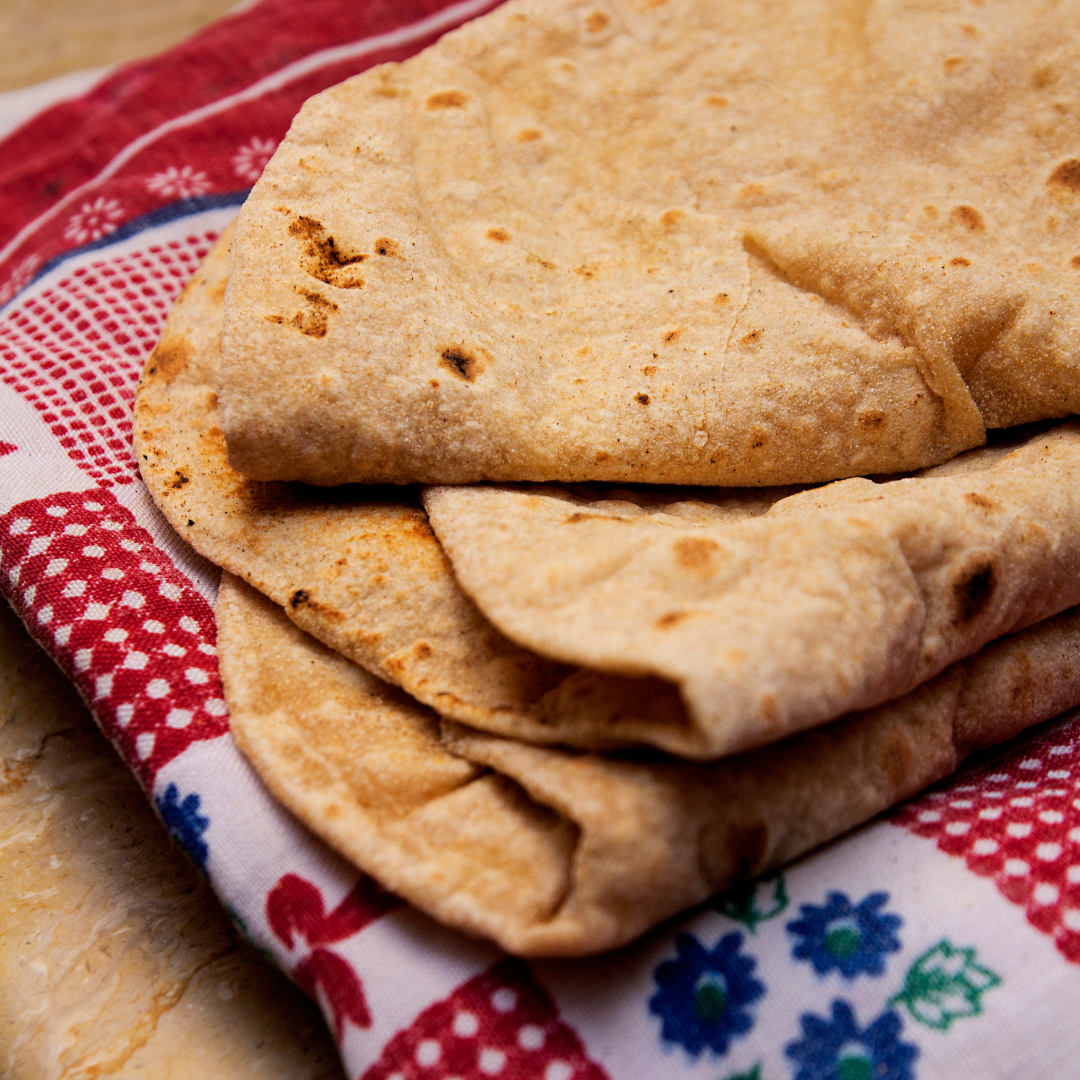 Roti Bread:
2 cups self rising flour
1/2 cup whole wheat flour
2 Tbs. plus 1 tsp. vegetable oil divided for recipe and additional for the pan
2/3 to 1 cup warm water
1 Tbs melted unsalted butter optional
Place flour in a bowl and mix in 2 Tablespoons of the vegetable oil. Gently, add the warm water, stirring slowly, until the dough starts to come together. While still stirring, add more water in small amounts, until the dough forms a ball. Put the dough on the counter and knead for a few minutes, adding a little flour if it is too sticky. The dough should be soft but not sticky enough to adhere to your hands or the counter. Let the dough rest for 10 minutes, covered with a damp cloth. Roll out the dough into a large circle, about 1/4 inch thick. Spread the remaining 1 teaspoon oil over the surface of the dough. Roll the dough up into a long roll. Slice the log into 8-10 pieces. Roll each piece flat into a 6 inch circle. Let the circles rest, covered with a damp cloth for 5 minutes. Heat a flat heave griddle or skillet over med-low heat. Roll the first circle of the dough out as thin as possible (to about 8-9 inch circle.) Add about 1 teaspoon of oil to the skillet and add a circle of dough. Cook 1-2 minutes, until the bread puffs up and turns light brown on the underside. Slide the roti to the side of the pan and quickly flip to brown the other side, cooking about 1-2 minutes more. Remove from the pan and place roti in a colander to cool. Cover roti with a damp cloth while you cook the rest; this will help keep them from becoming hard. Add more oil to the skillet if needed. Brush the finished roti with melted butter before serving, if desired.
RUSSIA 
It is known that the tradition of the tea ceremony in Russia began with the Russian Tsar Michael Fedorovich, when he was gifted tea by Altyum-Khan, the ruler of Mongolia in 1698. The tea traditions of Russia began in the days, where food and drinks needed to be stretched to serve as many as possible. Due to shortages, a strong black tea called zavarka was made in a hot teapot (samovar), a special tea-making device, and hot water was added as desired. This tea is traditionally served in teacups that are glass with a metal holder. This tradition still holds strong today. After clearing the supper table in a typical Russian home, the samovar is put in the center and the whole family gathers around for tea.
What tea to drink: The type of Russian tea is not as important as the ceremony of it.  Typically though it consists of a strong black tea.  The traditional tea in Russia is called the Russian Caravan tea which is a blend of teas including Oolong and Lapsang Souchong. Sometimes the black tea is blended with lemon, mint or dried berries.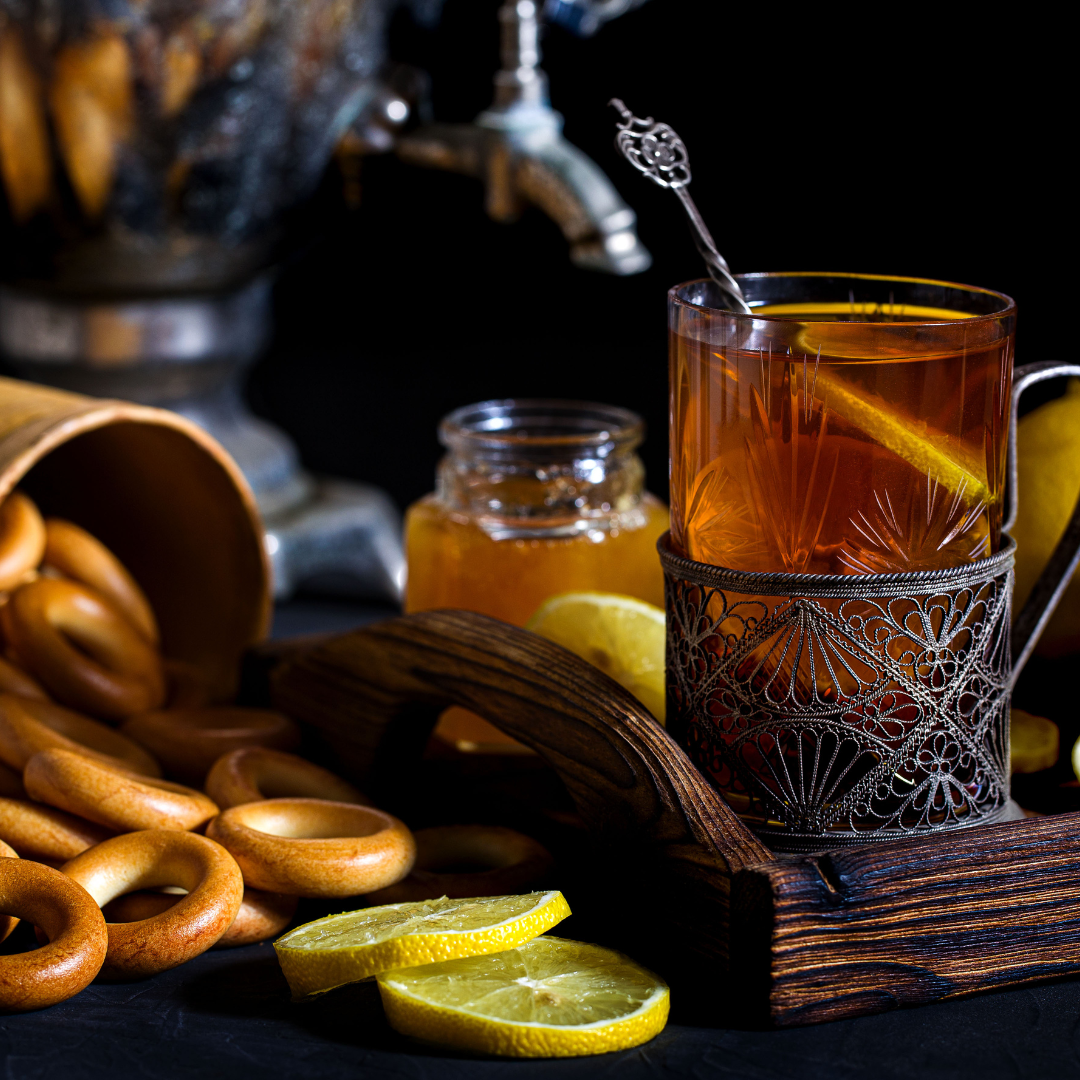 What to eat with it: Sushki are a snack that are typically served as a snack with tea. They are small, ring shaped, dry and slightly sweet. They look like tiny little bagels.
Sushki:
1 14 oz can sweetened condensed milk
2 eggs as well as egg wash (1 egg and 1 Tablespoon milk)
4 Tablespoons softened butter
1 teaspoon vanilla extract
1/2 teaspoon baking soda
1/4 teaspoon salt
4 cups all purpose flour
Preheat the oven to 350 degrees F. Line a baking sheet with parchment paper. In a large bowl, using a standing mixer with a paddle or whisk attachment, mix the condensed milk, eggs, softened butter (the butter needs to be really soft) and vanilla extract. In another bowl, whisk the flour, baking soda and salt. Switch to the dough hook attachment. Add the flour gradually to the batter and mix until combined. The batter will be very stiff. Portion out about ¾ of a Tablespoon of dough and shape it into a ball. Roll the ball of dough into a rope and pinch the ends together. You can make them as thick or thin as you like. Place the shaped sushki onto the baking sheet and brush them with the egg wash. Bake for 15-20 minutes.
SOUTH AFRICA
The first people to drink Rooibos tea began over 300 years ago, collected by the Khoisan people, an indigenous tribe from the Cederberg region of South Africa. This caffeine-free herbal tea is collected from the Aspalathus linearis. Rooibos (pronounced roy-bos) comes from the Afrikaans word meaning red bush.  Although this tea has been consumed by the locals for a long time it was the English settlers who started to mass produce this plant.  Since tea was expensive to import the Rooibos tea became the national tea of South Africa.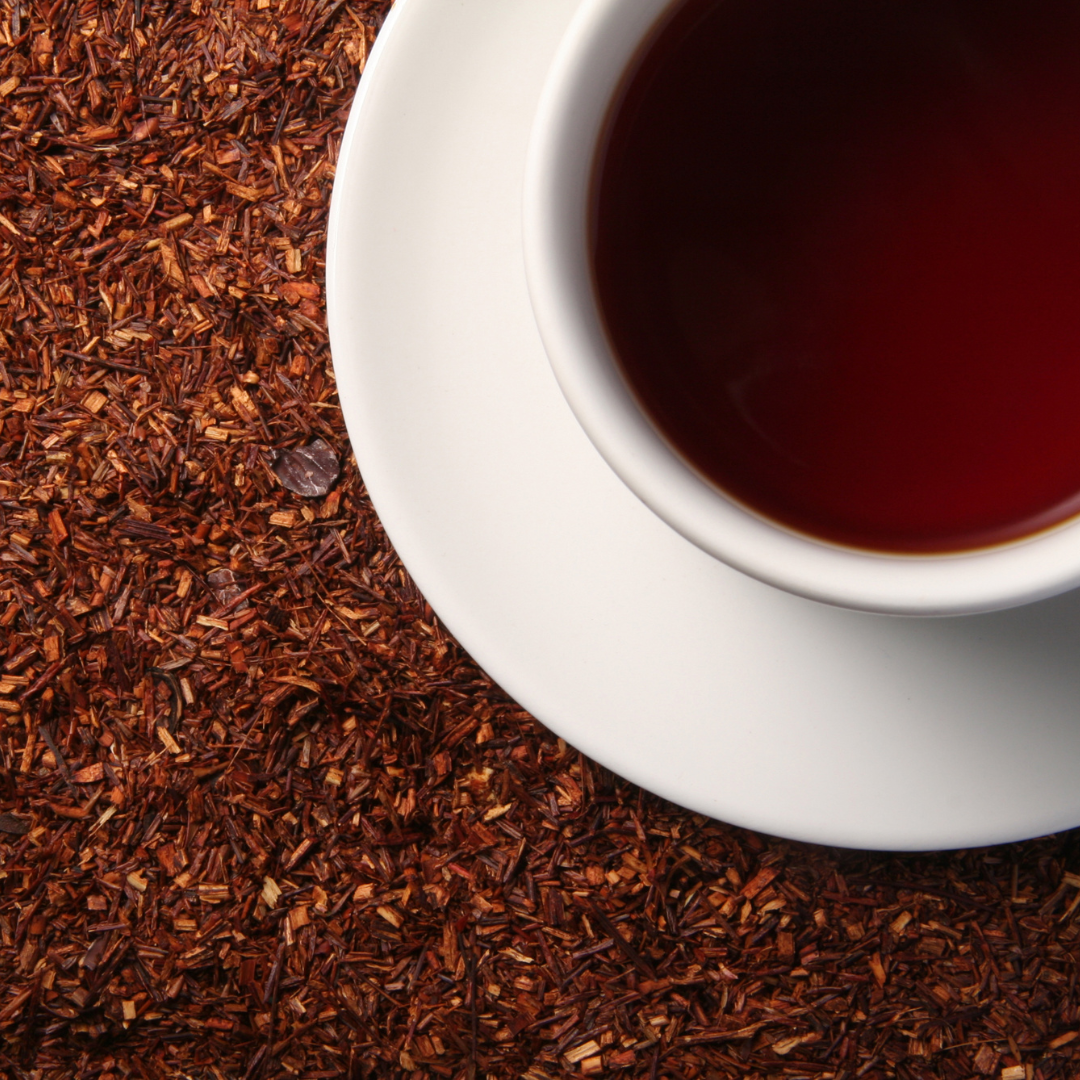 There are two types of Rooibos on the market: green rooibos which is unoxidized, while red rooibos is fully oxidized to change the color to deep reddish brown.  I was first introduced to Rooibos by my South African roommate. A fun side note: she has told me someone in South Africa mentioned our shop to her and she was so excited she told them she knew us!  During my visit to South Africa my favorite drink was the red cappuccino.  It is a style of cappuccino that is brewed just like the coffee one but is brewed with rooibos instead. This made for a delicious caffeine free beverage with the bonus benefits of the rich antioxidants.
Today Rooibos tea is still consumed by itself but is also added as a base to flavored non-caffeinated teas. 
What tea to drink:
Rooibos: has excellent health benefits and a delicate flavor that is sweet and aromatic.
Rooibos Chai: a blend of aromatic Indian spices and South African rooibos. It is completely caffeine-free, and a refreshing change from traditional black tea chai.
Lemon Meringue: This rooibos blend is perfect for any moments of sweet cravings anytime of the day.
Chocolate Monkey: A chocolate rooibos drink with a hint of dried banana.
Vanilla Berry Truffle: A sweet, tart, and creamy flavor with a rooibos base.
Happy: this caffeinated tea includes a base of green rooibos.
Thai Chai: this unique caffeinated chai also contains rooibos, along with the unique ingredients of bergamot and saffron
What to eat with it: In this area of the world, this tea is consumed both hot and cold all throughout the day at any age.  This tea, like water, is a life force in South Africa so it is consumed with just about everything they eat.  The Afrikaans (Dutch) and English settlers adapted the tea time with Rooibos and is enjoyed with sweets such as a sponge cake or sweet tarts. Margaret Roberts, one of South Africa's most renowned gardeners and herbalists, has one of my favorite go to books for herbal recipes.  This rose petal cream jelly recipe by Margaret, is one of my favorites to add to a biscuit while drinking Rooibos.
Rose Petal Cream Jelly:
3 Tablespoons powdered gelatin
1 liter red grape juice
Half cup white sugar
1 cup dry or semi-dry red wine
2 cups fruit – strawberries, sliced peaches
1 cup mixed rose petals
1 cup cream, whipped
Powdered sugar
Dissolve the gelatin in a little warm water. Stir the mixture into the grape juice along with the sugar and red wine. Pour into a glass bowl or 6 tall individual glasses and gently lower in the fruit and rose petals. Leave in the fridge until set. Just before serving spoon the cream on top, make a pattern with more fresh rose petals and dust liberally with icing sugar. Serves 6.
SOUTH AMERICA
Yerba mate is a tea that is collected from the plant Ilex paraguariensis and has been drunk in South America for centuries.  It was originally consumed by people in Paraguay, Argentina, Brazil and parts of Uruguay and Bolivia but is now consumed throughout the continent and world.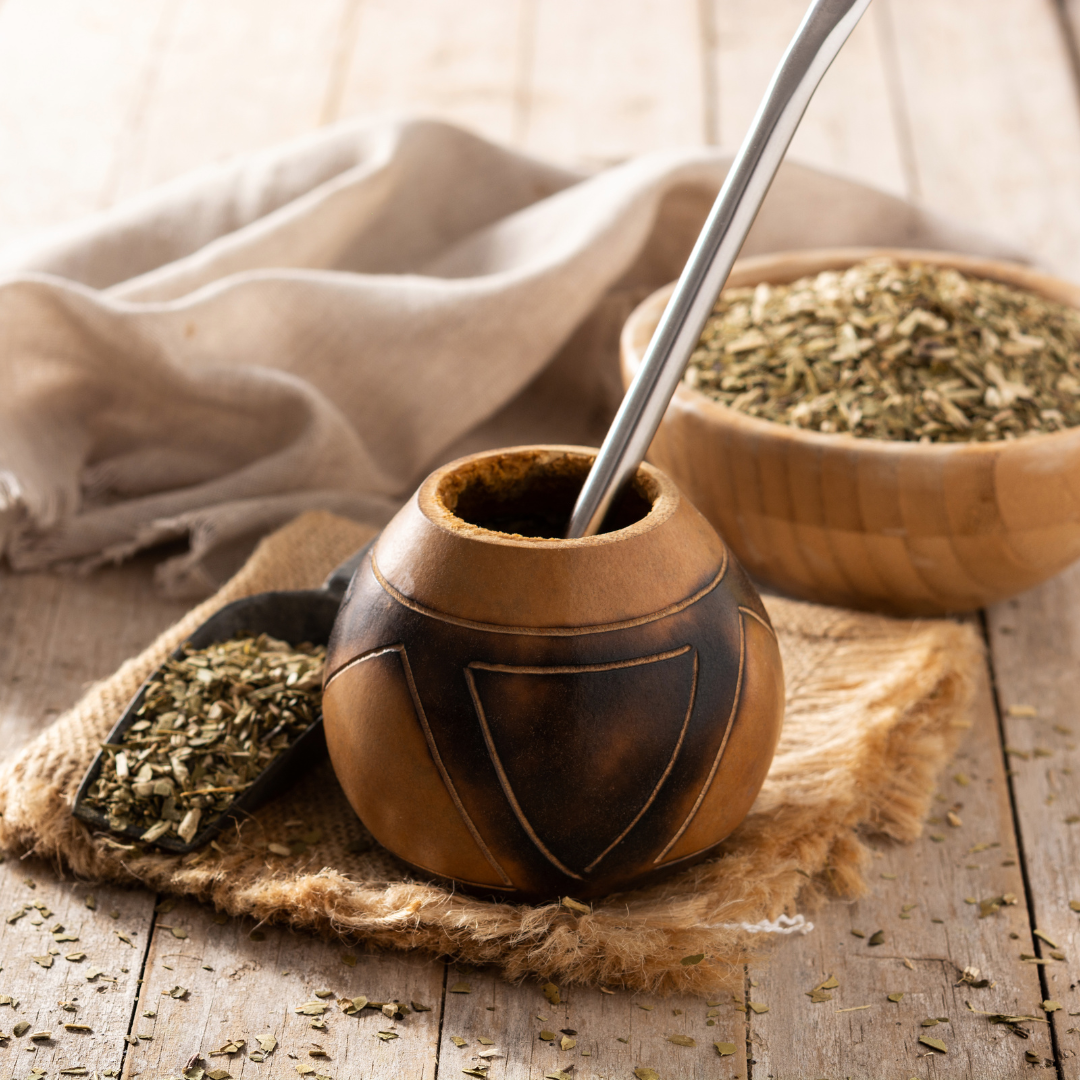 Traditionally people use a mate gourd and a small straw called a bombilla made out of cane and now metal.  Yerba mate and coffee both contain approximately 75–80 mg of caffeine per cup. However, the caffeine in yerba mate seems to work differently. While several cups of coffee easily cause jitters and crashing effects, mate has the unique action of stimulating and soothing, even after several servings. Relaxing compounds such as theophylline and theobromine may also be responsible.
What tea to drink: Yerba Mate  is loaded with B-vitamins, minerals, and antioxidants.  
What to eat with it: Many yerba mate drinkers eat picada with their tea.  Picada has a variety of hams, salamis, and cheeses, olives, cherry tomatoes, potato chips, and nuts (think charcuterie).  Having your tea with a sweet treat is also popular. The classic, South American alfajores recipe is filled with dulce de leche and rolled in shredded coconut.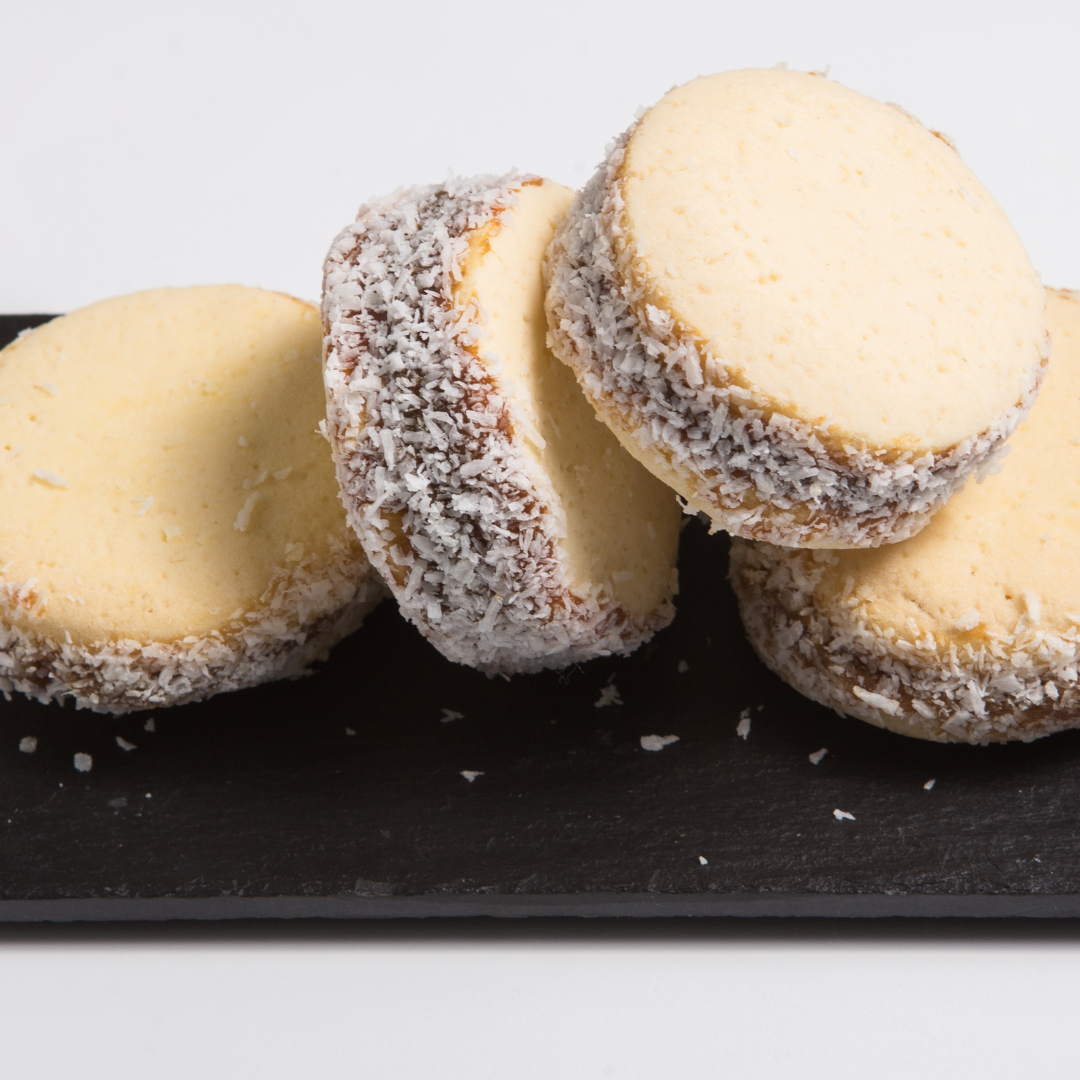 Alfajores:
1 1/2 cups all-purpose flour
 2 1/8 cups cornstarch
 2 teaspoons baking powder
 1/2 teaspoon baking soda
 1 and 3/4 sticks unsalted butter, at room temperature
 3/4 cup granulated sugar or 1 1/4 cups powdered sugar
 3 large egg yolks
 2 teaspoons vanilla extract
 350 g (12 oz.) dulce de leche, for filling
 1/2 cup unsweetened shredded or desiccated coconut, for rolling
Combine the dry ingredients in a bowl, including flour, cornstarch, baking powder, and baking soda. In a mixer with the paddle attachment, beat the butter and sugar until the fluffy, about 3 minutes. Slowly add the egg yolks and vanilla extract, mixing completely before adding the next. Don't forget to scrape the bottom and sides of the bowl to make sure all ingredients are fully incorporated. Lastly, add the dry ingredients in three additions, and mix until the dough just comes together. Chill it in the refrigerator for 1-2 hours in the shape of a ball, until firm. On a lightly floured surface (or between 2 pieces of parchment paper), roll the dough to a 1/8 or 1/4-inch thickness. Cut out into rounds using a 2-inch fluted or round cookie cutter, and place the cookies on baking sheets lined with parchment paper.  Place sheets with cookies in the freezer or fridge for at least 15 minutes, until firm, so that they will be less prone to spreading. Preheat the oven to 350 degrees F. Bake for 7-10 minutes, or until cookies appear golden brown at the edges. Allow cookies to cool in the pan for 10 minutes, then gently transfer to a wire rack to cool completely. Once they are cooled, place a bit of dulce de leche in the middle of a cookie, and press down with another cookie forming a sandwich. Roll the exposed dulche de leche on the sides in coconut, and indulge.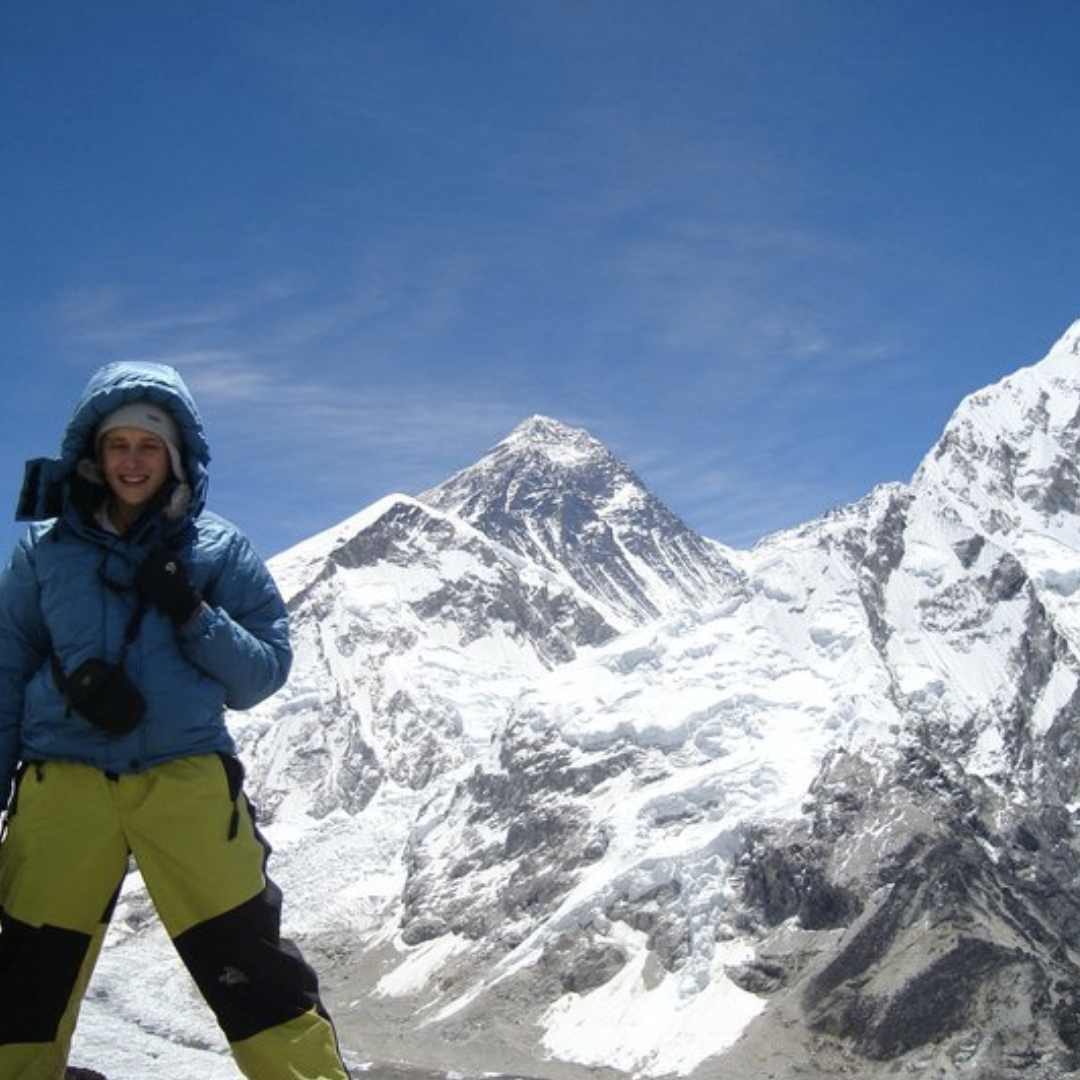 Nepal- Everest in background
We hope you enjoy this window into the cultural world of tea.  Please stay tuned for our next tea adventure around the world. If you would like me to touch on a specific country and their tea in part 2, please comment below.
If you try any of these recipes, be sure to let us know in the comments below! Or even better, tag us @homsted_lifestyle to show us!!