Login
Log in if you have an account
Dont have an account? Register
How to Make an Herbal Salve
29 Aug 2020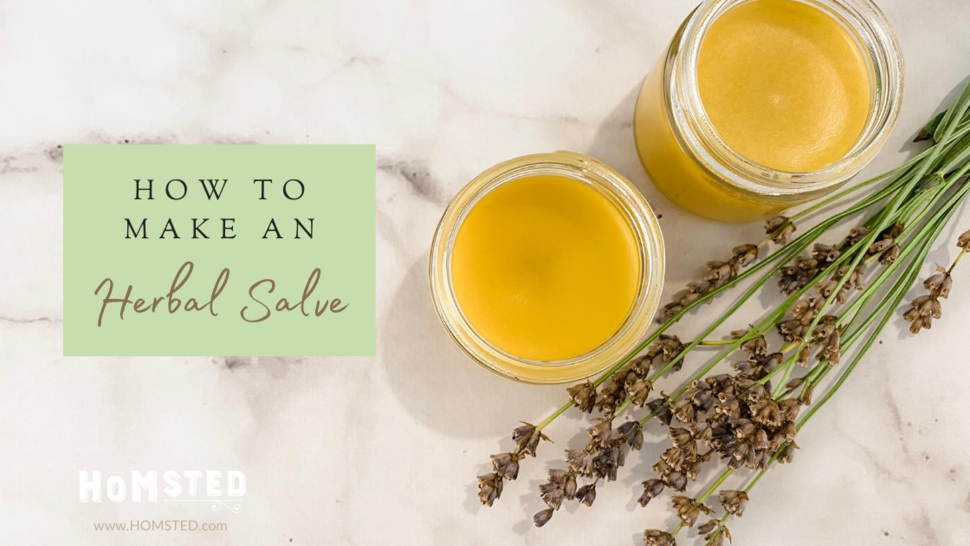 Salves are a very important tool to have in your medicine chest.  In addition to being easy to make, they are generally inexpensive and highly effective when made right.  The three main ingredients in a salve offer these healing possibilities:
Oils, particularly infused oils (click on links to read about carrier oils and how to make an infused oil), can be used for their myriad of healing properties.  For example, arnica or hemp infused oils for inflammation,  calendula or comfrey infused oils for tissue healing, or rosehip seed oil for its antioxidant content.  Feel free to use a blend of oils/infused oils in your salves.

Beeswax, combined with the oils in a salve offer simple but effective skin hydration and hydration barrier retention.  For stubbornly dry skin, like commonly found on hands and feet, oils and beeswax offer a great solution.  It is the beeswax-to-oil ratio that mainly determines the 'stiffness' of your formulation.

Essential oils are an optional but exceptional addition to salves.  They bring an endless number of therapeutic options: aromatic decongestants for congestion (e.g. peppermint, eucalyptus), camphor-containing essential oils for pain reduction (e.g. wintergreen, peppermint), anti inflammatory essential oils (e.g. frankincense, blue chamomile), or antibacterial/antifungal essential oils (e.g. tea tree, niaouli).  The possibilities are endless!
As an added benefit, salves are often easier to handle and have longer shelf lives than comparable infused oils, especially with the addition of a small amount of vitamin E oil or rosemary essential oil.  But perhaps best of all, salves are EASY to make.  You can create dozens of salves in under an hour.  The tools requires are minimal:
Either a double boiler or a saucepan and a mixing bowl

Measuring cups

A mixing spoon

Something to put the salves in (small, wide-mouth jars work the best)
If made in a clean environment, with clean dishes, you can expect to get at least a year of shelf life from a salve.  If you avoid getting any water in your salve mixture, your salves generally go bad by oxidation.  You'll notice an unpleasantly musky odor when the oils start to turn.  Just discard and start a new batch!
How to Make a Salve: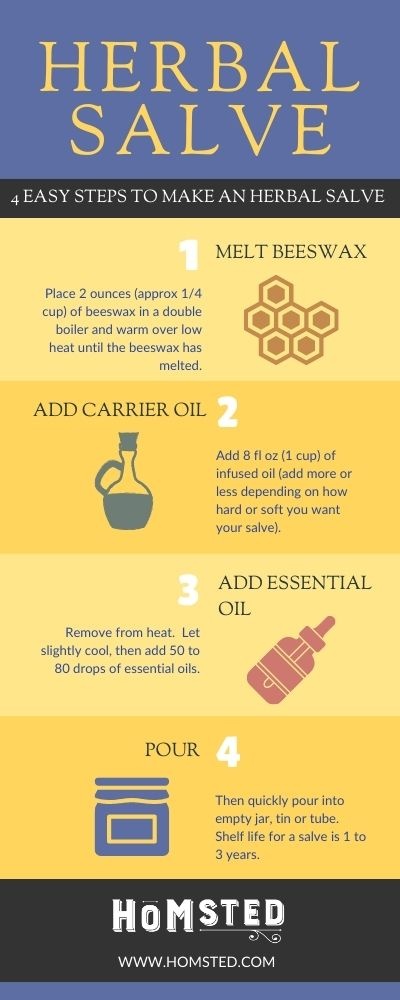 If you don't have

beeswax beads

then grate or chop beeswax. Place 2 ounces (approx 1/4 cup) of beeswax in a double boiler (or a mixing bowl/saucepan combo) and warm over low heat until the beeswax has melted.

Once the beeswax has melted,  add 8 fl oz (1 cup) of infused oil (add more or less depending on how hard or soft you want your salve; see the tips below for more).

Remove from heat. Let slightly cool, then add 50-80 drops of essential oils and vitamin E (1mL or ~25 drops, if using). 

Then quickly pour into empty jars, tins or tubes. Shelf life for a salve is 1 to 3 years.
Tips:
A touch of vitamin E oil can be added (at about 1%) if desired to increase the shelf life. 

To find out the consistency of your salve prior to it hardening you can test it out early in the process. Once you melt both the wax and oil you can scoop some into a spoon and put into the freezer for a few minutes; just until it hardens but is not cold. This will give you an idea how soft or firm it is. If you want a harder salve then add more beeswax.  For a softer salve, add more oil.
Essential oils  are an excellent way to add additional healing properties to salve.  Here is a list of some of our favorite oils to add:
Lavender can be used to profoundly support skin healing, including cuts, bites, and scrapes, but it is renowned for its ability to soothe burns and support the reduction of scar tissue. It also can be applied under the arms as a deodorant. Lavender oil eases tension from daily stress or over-work, and promotes feelings of well-being.  It is considered particularly helpful in supporting muscles and joints, encouraging a healthy inflammatory response. Lavender is thought to be a general immune supporting oil, safe for all ages. 
Blue/German Chamomile has anti-inflammatory and skin healing properties. Great to use for skincare particularly issues involving eczema, acne and allergies.  Effective for headaches, insomnia and nervous tension.  Make sure you do not have an allergy to herb before use.  
Frankincense  is great for skincare particularly aging skin, acne, scars and wounds.  It can soften old scar tissue and reduce inflammation.  It is also useful for respiratory infections and asthma.  
Ravensara is best known for its potent antioxidant and deep immune supporting properties.  Enhances upper respiratory health and deep immunity.  Its immune enhancing properties make it a first choice for cold and flu season. It is mild enough to be used safely on children and the elderly. 
Eucalyptus Radiata has decongesting and anti-viral, safe for kids and pregnant women.  It promotes expectoration of mucus, and encourages detoxification and a deeper level of immune support especially during cold and flu season.  It may also be used topically as an insect repellent. Eucalyptus has a refreshing and stimulating action on the mind, helping to improve concentration. It is associated with the alleviation of grief and sorrow, as well as opening the heart and intellect while equalizing emotions. 
Peppermint is a powerful nervous system stimulant, peppermint can assist in nervous disorders and sharpens mental focus. Peppermint oil's wide ranging ability to help digestive issues include appetite stimulation, and nausea and gas reduction when used in direct inhalation or diffusion. A cooling pain reliever, peppermint oil is applied to the temples to treat headache and reduce fever. Peppermint essential oil is also extremely effective for taking the edge off tension headaches. An effective expectorant, peppermint oil provides instantaneous, though temporary, relief of nasal congestion, sinusitis, asthma, bronchitis, cold and cough when rubbed on the chest (diluted) or inhaled directly. It is used to relieve skin irritation, sunburn, and itchiness as it nourishes and balances dull, oily skin.
Disclaimer: This information is intended only as a general reference for further exploration, and is not a replacement for professional health advice. This content does not provide format recommendations, toxicity levels, or possible interactions with prescription drugs. Accordingly, this information should be used only under the direct supervision of a qualified health practitioner. Reliance on any information provided by this article is solely at your own risk.