Login
Log in if you have an account
Dont have an account? Register
Recipes for a Holiday Feast: for Vegans and Meat Eaters
19 Nov 2021
When cooking a Thanksgiving feast there are usually some pretty amazing smells lofting through the air.  This is usually a good thing unless you are hungry.  So we have put together some ideas for a pre Holiday dinner to keep family and friends from hovering in the kitchen as well as some of our favorite main dishes and drinks that are festive and won't disappoint. 
Pre-Dinner: 
Tapenade: 
We always have people ask: "what is tapenade"? A tapenade is a sauce or mix spread to put on bread or crackers.  It is usually made as an hors d'œuvre appetizer to be enjoyed best with an apéritif drink or cocktail.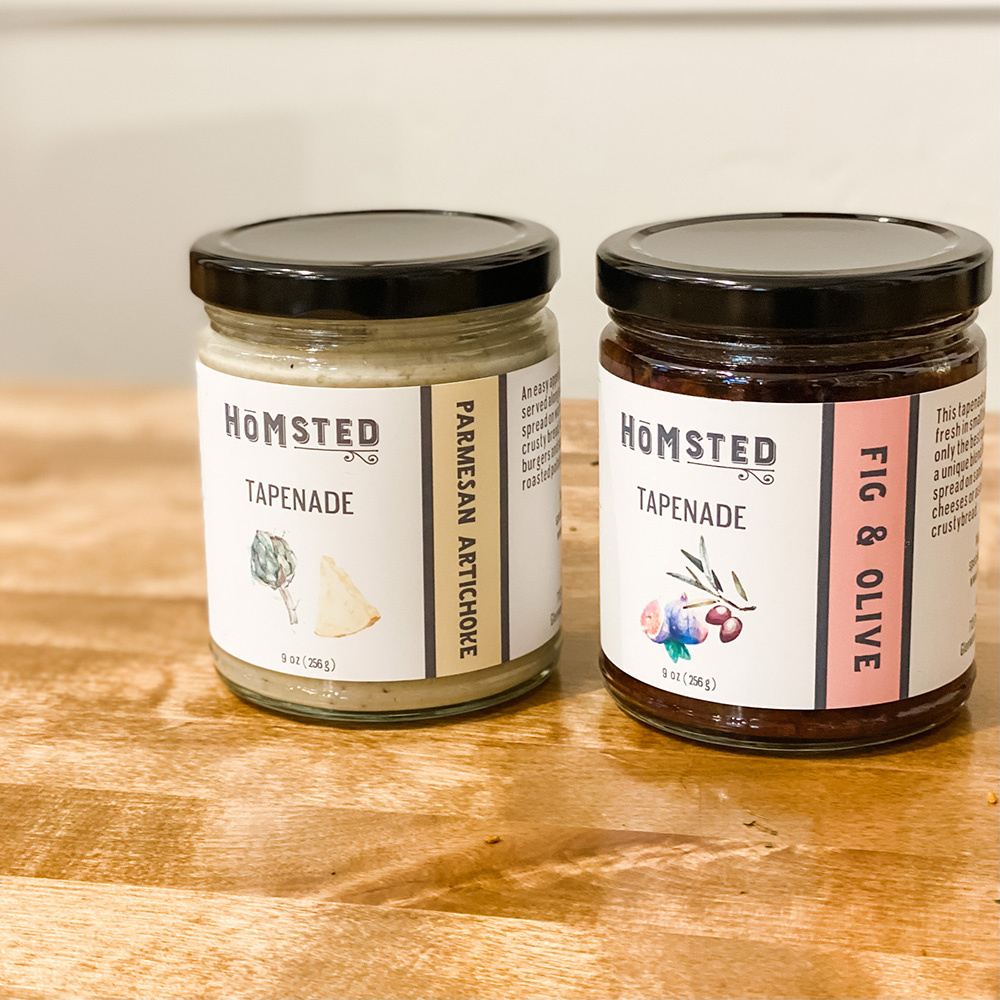 We love to spread our fig & olive tapenade onto a slice of bread and add a piece of bacon to the top for added flavor.  For our vegan family members, we just leave the bacon off and enjoy as is.
When it comes to the Homsted's parmesan artichoke tapenade, we like to warm it up and add it to some crackers or set it out as a dip. 
Relish Tray
I was born into a family of picklers.  As a tradition, every year they get together and make pickles.  So needless to say, a relish tray is an absolute must when it comes to our holiday dinner table or a snack beforehand. Full of tangy pickled beets, zesty and garlicy olives, sour pickles, and pickled beans, it is usually the first dish to disappear.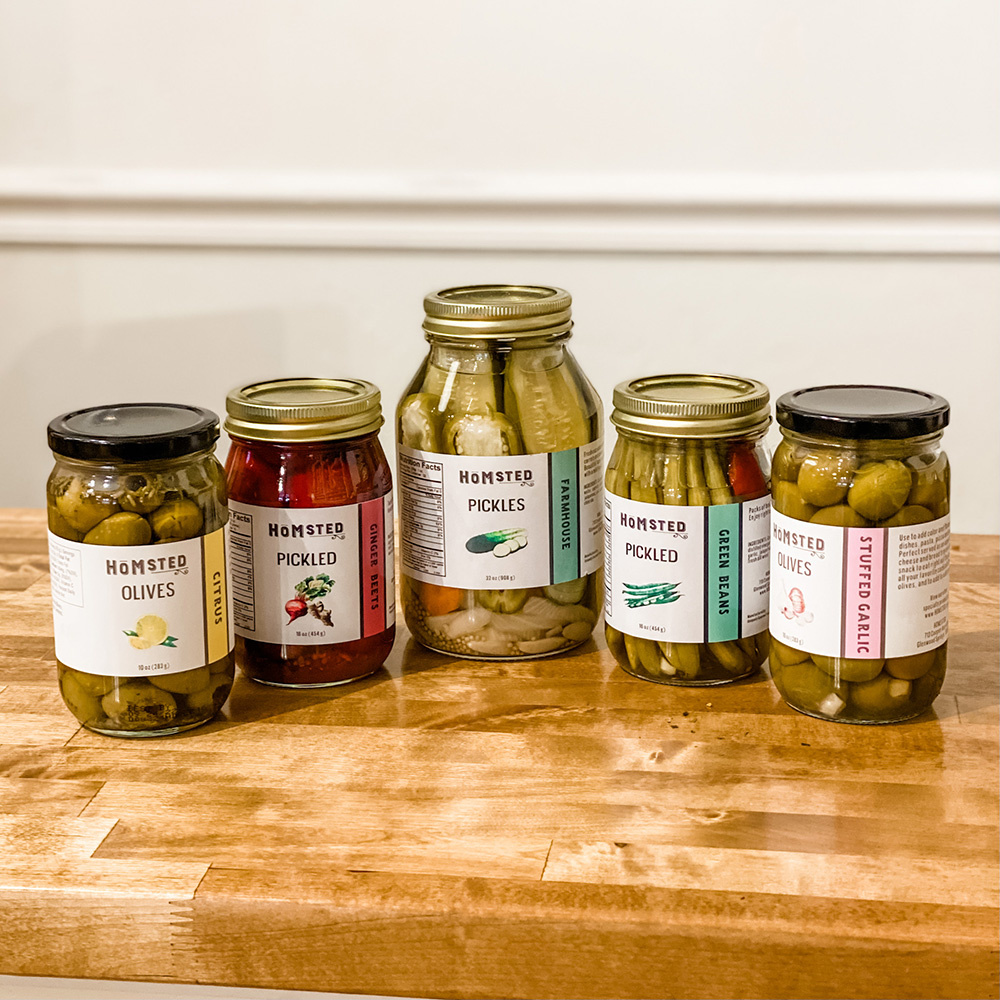 Side Dishes:
Mashed Sweet Potatoes and Roots
We like to put a spin on our mashed potatoes.  This time of year we usually still have carrots, sweet potatoes and turnips still in the garden, so it is a great way to use the rooted veggies.  Our kids can't seem to get enough of this dish.
¾ lb sweet potato
1 medium parsnip
1 carrot
¼ cup milk or almond milk
1 Tablespoon Homsted's garlic infused olive oil
½  teaspoon Homsted's Applewood Smoked Sea Salt
⅛ teaspoon pepper
Peel and dice sweet potato, carrot and parsnip.  Transfer to a medium saucepan, cover with hot water from the tap and bring to a boil.  Reduce heat to medium cook until veggies can be easily pierced with a fork, about 15 min.  When they are done then drain and return to the pan.  Add salt and pepper and mash until smooth. 
Herbed Kale Salad
Kale is another one that we usually have lingering in the garden this time of year.  This green goodness is packed with nutrients, antioxidants, vitamin C and more.  This is a favorite dish in our household that we eat all year long because it is just so good.
1 clove garlic
2 teaspoons Homsted's infused rosemary olive oil
2 teaspoons apple cider vinegar
1 teaspoon Homsted's amber ale mustard
½ teaspoon brown sugar
½ teaspoon Homsted's tuscan herb sea salt 
⅛ teaspoon black pepper
1 bunch of kale
Peel and mince garlic; transfer to a bowl.  Add oil and mash with the back of a spoon until soft and combined.  Add vinegar, mustard, sugar, salt and pepper to the bowl with the garlic; whisk to combine the dressing.  Fold kale leaves in half lengthwise and slice off the stems.  Finely chop leaves and transfer to the bowl with the dressing. At this stage I really like to massage the dressing into the kale.  When you massage kale before mixing it in a salad you are breaking it down so that it is easily digestible and easier to eat. You really want to break the kale down, so really work the kale with your fingers by pinching and squeezing the kale for about 3-4 minutes.  Once it is tender then the job is done.  
The Main Dish:
If you are a meat eater and are fortunate to live in an area where you can hunt and prepare your own meat, then you are quite lucky since not everyone can hunt and harvest their own animals.  John (my husband/business partner) just left this morning for his annual hunt. For him, it is a sacred practice that takes weeks and even months of preparation so that he can make it as sustainable and ethical as possible. If you are unable or uninterested in hunting your meat then a free range organic bird is the way to go. We love to cook it with our rosemary olive oil and season with our farmer or hunter seasoning.   
A Southerners Gravy
For the meat eaters: whether you are eating turkey, duck, goose, quail, grouse, pigeon or pheasant, gravy is the key to a good meat plate, says my husband the Southerner.  This is one of our favorite brown gravy recipes.
2 Tablespoons pan drippings or butter
2 teaspoon flour
1 cup poultry stock (chicken or turkey)
2 teaspoons Homsted's farmer seasoning
Salt and pepper to taste
Add fat to the skillet over medium heat.  Once heated then whisk in flour until browned but not burnt to make the roux (about 5 min). Whisk in the stock and let it simmer for about 7 min continuously mixing.  Add salt and pepper as needed.
For the vegetarians or vegans: 
Stuffed Squash with Pecans and Maple
If you are vegan like some members of my family or choose not to have meat as a dish in your meal, then we have added a recipe for stuffed squash as the main dish. This recipe is full of so much flavor and adds a hearty, sweet and savory addition to your plate.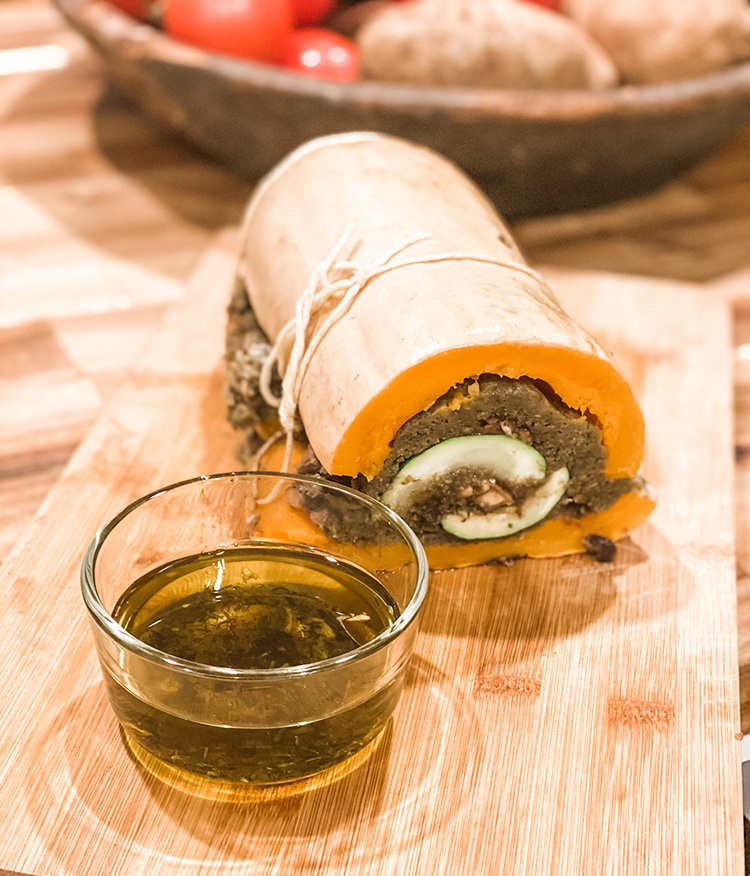 1 cup pecans
1 zucchini
1 large butternut squash
2 scallions
2 garlic cloves, divided
1 shallot, coarsely chopped
1/2 pound shiitake mushrooms, trimmed, (¼ lb coarsely chopped and ¼ lb cut into strips)
9 sprigs thyme, divided
1 tablespoon Homsted's extra virgin olive oil
1 cup Homsted's infused oregano olive oil
4 tablespoons bourbon aged maple syrup
2 large eggs or egg replacer
1/2 cup breadcrumbs
3 teaspoons Homsted's gardener seasoning
6 tablespoons coarsely chopped parsley, divided
1 tablespoon fresh lemon juice
Preheat oven to 350°F. Toast pecans until fragrant and slightly darkened about 10–15 minutes, tossing once. Let cool, then coarsely chop and set aside. Increase oven temperature to 400°F. Line a baking sheet with aluminum foil. Cut zucchini in half lengthwise. Scoop out insides, leaving a small divot down the center. Keep the zucchini filling. Cut butternut squash in half lengthwise and remove seeds. Scoop out insides, leaving a 1/2" border on all sides and creating a divot deep enough to fit zucchini halves inside. Reserve squash filling. Use a fork to pierce insides of squash and zucchini halves. Trim scallions to match the length of the squash. Coarsely chop a garlic clove. Combine the chopped garlic, shallot, mushrooms, zucchini filling, and squash filling in a large bowl. Blend these together in a food processor or vitamix until pureed. 
Heat the extra virgin olive oil over medium in a large skillet. Add vegetable puree and add 3 thyme sprigs. Cook, stirring occasionally, until mixture begins to brown, about 5 minutes. Return to bowl and let cool. Meanwhile, smash and peel remaining garlic clove and combine with infused oil, gardeners seasoning, and remaining 6 thyme sprigs in a small pot. Cook over medium heat, stirring occasionally,  then stir in maple syrup. Pluck out thyme sprigs from vegetable mixture. Stir in eggs (or egg replacer), breadcrumbs, 3 Tbsp. parsley, and 1 tsp. Pink himalayan salt into vegetable mixture. 
Place squash halves, cut side up, on baking sheet. Brush inside of each with maple syrup, infused oil and season with 1/2 tsp. himalayan salt. Using the back of a spoon, press 3/4 cup vegetable mixture into each half until interior is fully coated. Sprinkle with 1/4 cup reserved pecans.
Insert zucchini halves, cut side up, inside eggplant halves. Add the maple syrup, infused oil, salt and pecans as you did in the last step. Lay scallions and strips of mushrooms down in the middle. 
Tightly tie cooking twine around squash to secure. Brush top with maple syrup and infused oil and season with 1/2 tsp. smoked salt. Wrap squash in aluminum foil and place in the center of the baking sheet. Bake until squash is tender to the touch, 1 hour 45 minutes–2 hours. Remove foil and let cool for 20 to 30 minutes. 
Meanwhile, pluck out thyme from remaining maple syrup and infused olive oil, heat over medium-low until warm, lemon juice, 1 tsp. smoked salt, and remaining 3 Tbsp. parsley. Place onto a cutting board and cut into 1" slices. Garnish with pecans and infused oil.
Fermented Cranberries:
Of course a Thanksgiving meal is not complete without cranberries.  At home we ferment our cranberries.  It adds not only a delicious zing to the dish but the added benefits of fermentation. It adds good bacteria to your gut which create acidic fermentation byproducts that lowers your intestines pH, decreasing the chance of survival of bad bacteria.  
Check out our recipe here.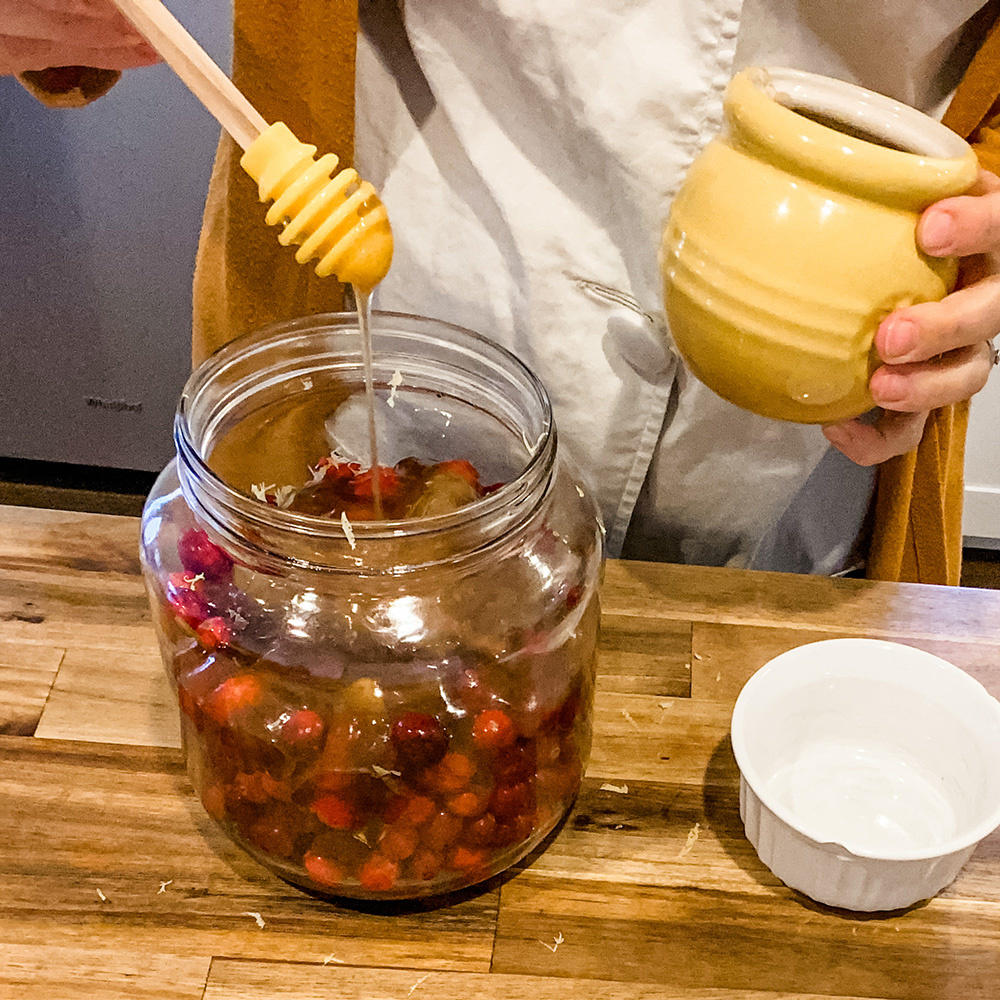 Drinks:
One of our favorite things to do each holiday is to come up with a new festive drink.
Jam Cocktail: I never knew there was such a thing until I came across a recipe in the Wildcrafted Cocktail.  Like it says:  you simply add jam to your alcohol.  I like to use gin because it adds a nice botanical accent to the drink but you can add it to any spirit. 
Gin and Fig Jam Cocktail: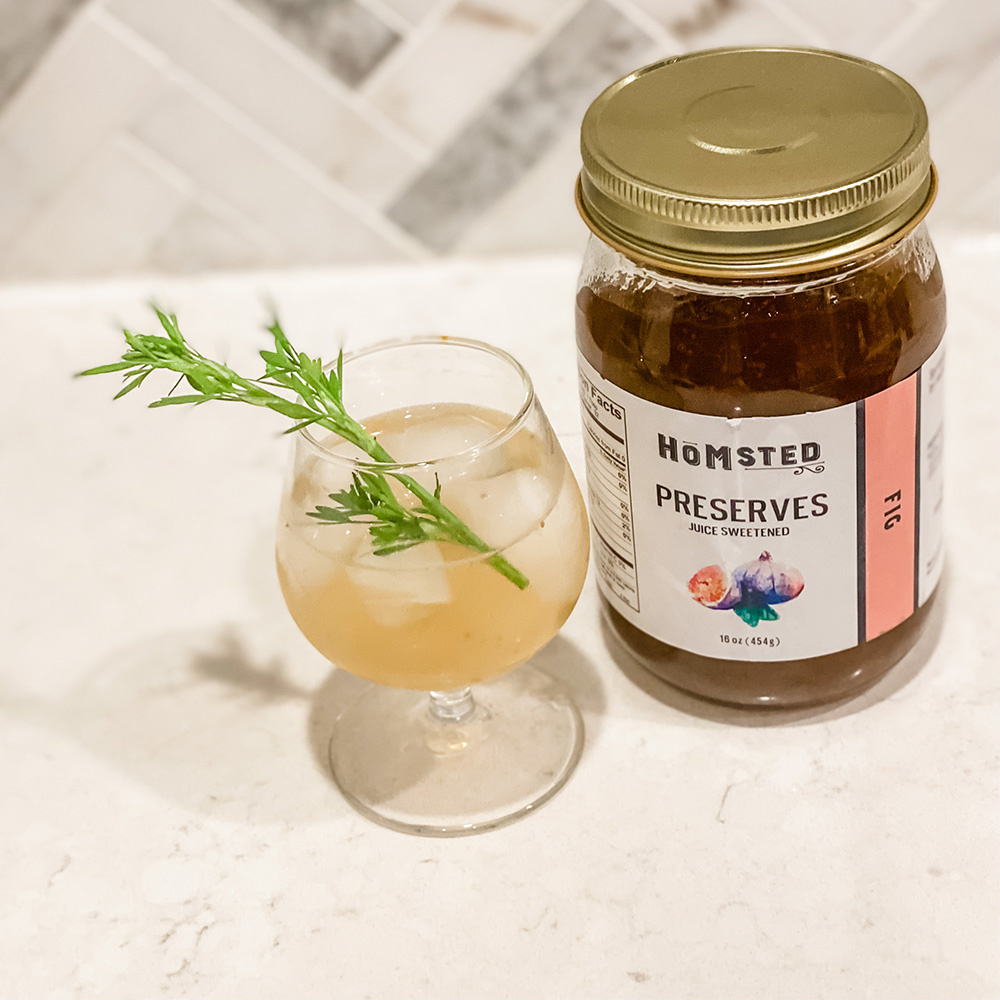 Shake up 2 ounces of your favorite gin with a tablespoon of Homsted's Fig Preserves in a shaker full of ice. A dash of lemon juice if you like. Strain, pour over ice and add a sprig of your favorite herb (lemon balm, rosemary or tarragon are my favorites) to garnish.
Click here to view more holiday drink ideas.
Dessert:
Pumpkin Pie with Vanilla Balsamic: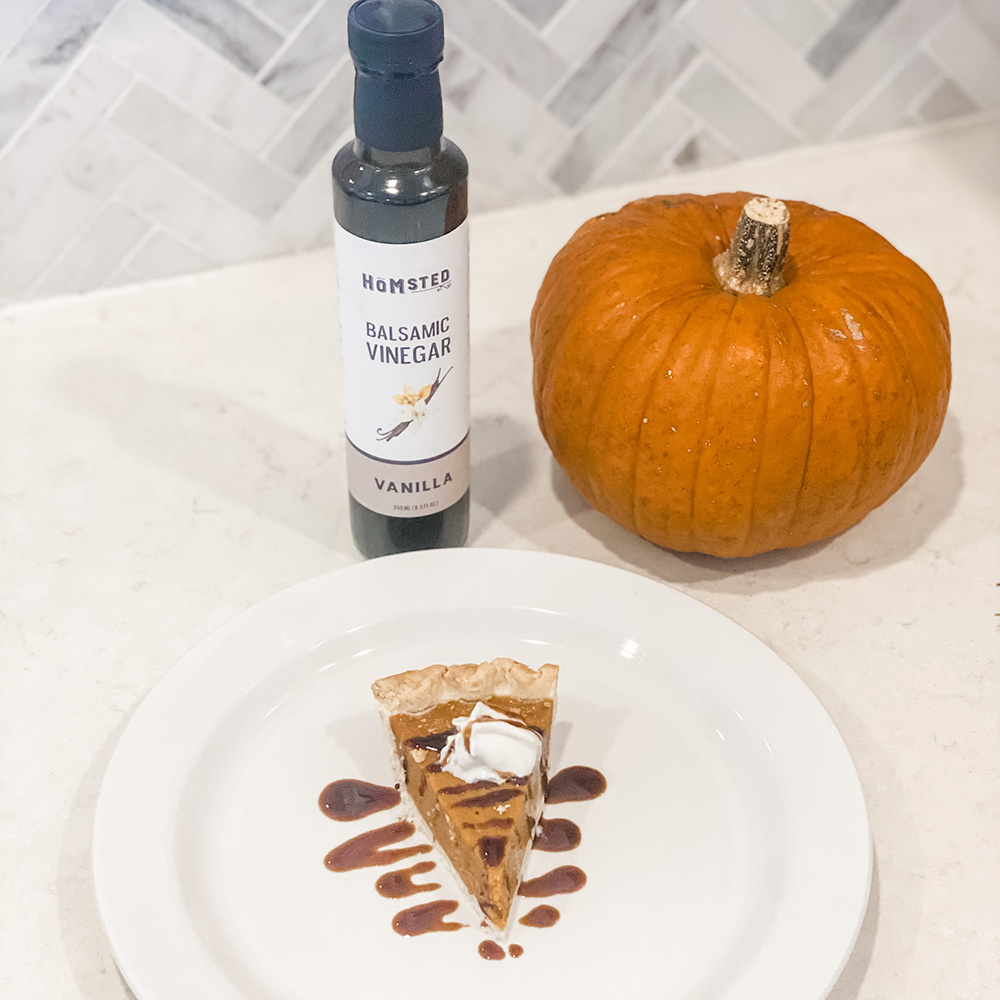 This year we grew cooking pumpkins in the garden.  It made for some great decorations in the home during the autumn.  A couple weeks ago we spent a couple hours making pumpkin puree from them.  We were able to make pumpkin gnocchi, pumpkin elk stew and pumpkin pies.  We kept some extra puree to make our pie for Thanksgiving.  
2 cups pumpkin puree
3 eggs
1 ¼ cups brown sugar 
1 tablespoon cornstarch
½ teaspoon salt
1 ½ teaspoons ground cinnamon
½ teaspoon ground ginger
¼ teaspoon ground nutmeg
⅛ teaspoon ground clove
⅛ teaspoon ground pepper
1 cup heavy cream or coconut milk 
Whisk pumpkin puree, eggs, brown sugar together until combined.  Add cornstarch, salt, ground cinnamon, ground ginger, ground nutmeg, ground clove, ground pepper, heavy cream or coconut milk and whisk until smooth.  Pour into the crust and bake at 365 degrees for about an hour.  Once cooled and placed on a plate then add a drizzle of vanilla balsamic.  Adding vinegar to a pumpkin pie sounds a bit crazy, but trust me, you will thank me later!