Login
Log in if you have an account
Dont have an account? Register
DIY Holiday Gift Guide - 8 Herbal Recipes
06 Nov 2020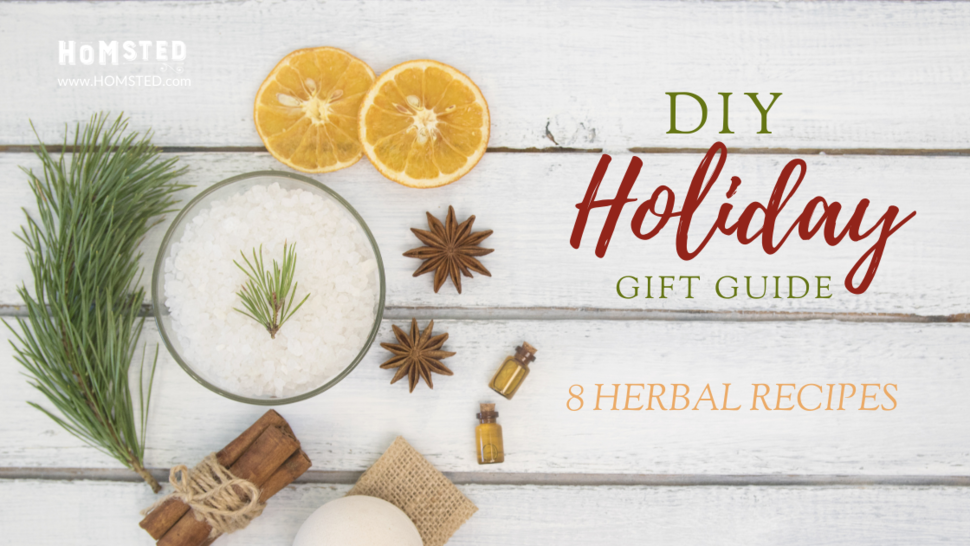 It's that time of year! Halloween is over and as we start to prepare for Thanksgiving, many of you are also starting to think about Christmas gifts.
That's why we created the following gift guide below. These are all herbal-based gifts so you can feel good about gifting them for many reasons.
First, you are in control of the ingredients you use, so you better know the quality. And making your own gifts, especially like the ones below is generally cheaper than buying from a store. And with a year like 2020, we could all use a bit of budget-friendly self-care.
To make the items even more budget-friendly and sustainable, start collecting small glass and metal containers that you can reuse to store these products. Reuse those glass face cream containers for your own scented perfume. Or fill up those empty olive jars with your own bath soak.
Make sure they are thoroughly cleaned and labels removed before you use them. Once they are clean, they can become the perfect container for your Herbal DIY project. Just add a ribbon, tag, and label and you've got yourself the perfect gift.
For each item, we've provided (where appropriate) some of our top recommendation for herbs that would be best used. Pick which one suits your needs best or consult a reputable resource to determine which herbal alternative is best for you.
There are many options to choose from below. Some of the items are simple to make and only include 2 or 3 ingredients. Some of the other have more ingredients, but they are still simple to make.
And best of all, these can be made with little time investment. Once you have all the ingredients, they can be made in a single day. So, there is not weeks-long wait until they are ready to gift.
So, these gifts are budget-friendly, sustainable, easy to personalize and easy to make. A true WIN for everyone on the gift giving this year.
Without further ado, here are 8 favorite Herbal DIY Gifts to Give this year.
CHAI SPICE SUGAR SCRUB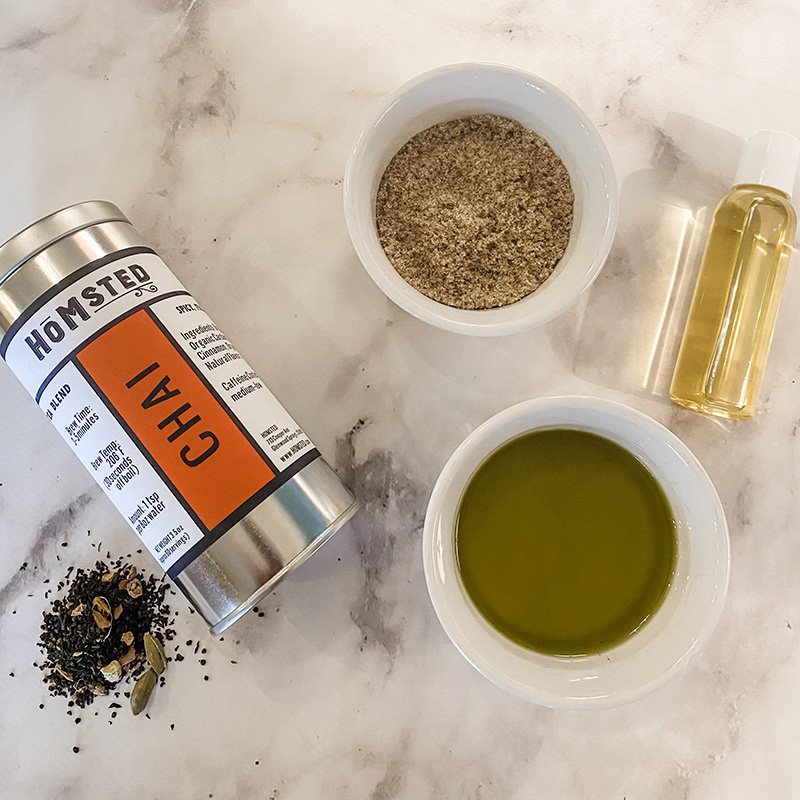 Here is a sugar scrub recipe that is perfect for cold weather season! The chai tea scent adds a wonderful touch to this scrub and acts as an extra exfoliator. It's an incredibly simple recipe, yet quite personalized with our own blend of chai tea.
Here's what you'll need:
1 cup turbinado raw sugar
¼ cup apricot kernel oil
¼ chai tea
Here's how to make it:
Grind chai tea spices in a coffee grinder until well blended. Mix ground spices and sugar in a bowl. Add in oils. Pour into a storage container. 
With this recipe, you can change the consistency to suit your needs. More oil with make, of course a more fluid scrub, while less oil will leave you with a grittier consistency.
MASSAGE OIL
Now, massage oil probably needs to introduction. And while it appears that massage oil only has one purpose, just know this has many possibilities! Try using the massage oil as a luxurious, after-shower moisturizer or adding some to your bath water. Once combined, you could also add to many of your own Herbal DIY bath products, like bath salts or bath fizzies. Be creative and experiment to find your perfect combination.
If you aren't sure, which carrier oil to use, then check out our thorough guide, which details the benefits of each oil as well as which ones work best as massage oils and in Herbal DIY products. We highly recommend apricot kernel oil, sweet almond oil, or fractionated coconut oil. Make sure to read our guide as find out the benefits of each to see what would work best for you!
Here's what you'll need:
1 oz carrier oil
10 drops essential oil
Just mix the two ingredients well, and store in an amber jar for up to 1 year.
You can, of course, make this mixture in larger quantities and store accordingly. But with this small portion size, you can test out which essential oil or essential oil blend you like best!
If you are unsure which essential oil to use, we recommend lavender, peppermint, grapefruit, ylang ylang, rose geranium, clary sage or bergamot. Or our blends such as grounding, relax, heart chakra.
SOLID PERFUME
With the solid perfume, you can personalize the scent to suit your needs. And with the beeswax and almond oil, you'll be hydrating your skin. This recipe makes a single batch, which you can fill into a small tin or repurpose a clean cosmetic jar.
Here's what you'll need:
about 4 teaspoons carrier oil
2 teaspoon beeswax
20 drops essential oils
Here's how you make it:
Melt oil and beeswax together in a double boiler over medium heat. Once beeswax has melted then remove from heat. Once it has cooled slightly, but before it hardens, add essential oils. Pour the mixture into your tin of choice but don't seal until the mixture has hardened.
Our love or exotic blends make great floral perfumes or our grounding blend makes a great masculine scent.
HOLIDAY BODY POLISH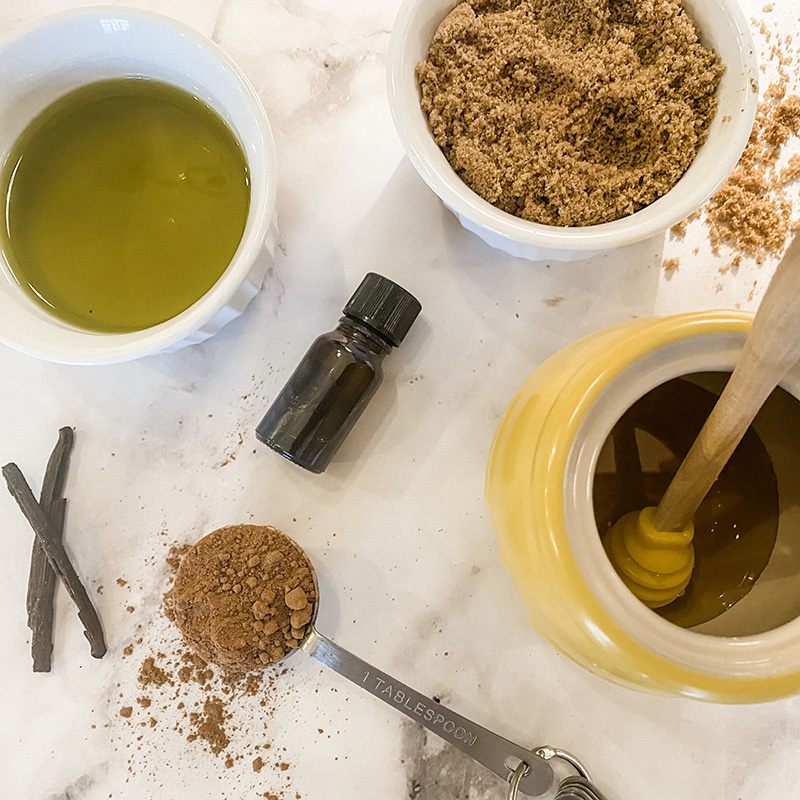 The holiday season is certainly a time for pampering and taking a bit of time for self-care. Using a scrub is an easy way to freshen up and reveal beautiful skin – especially with the colder, and sometimes drier, winter air. This will certainly help rejuvenate your skin.
One great benefit of this recipe is that you'll have the choice to make either a salt scrub or a sugar scrub. What's the difference, you ask?
Since salt is generally more granulated than sugar, you'll want to use sugar scrubs on delicate areas, like your face or décolletage. Salt, often being coarser, should be used in areas that can handle rougher scrubs, like elbows and feet. Just keep in mind, the coarser granules should be used on tough skin areas while the smaller granules should be used on sensitive areas and are best for sensitive skin.
What You'll Need:
1 cup brown sugar or fine sea salt
1/2 to 3/4 cups carrier oil
1 Tbsp powdered cocoa nibs or cocoa powder
1 Tbsp honey
1-2 tsp vanilla or almond extract
20-40 drops essential oil of choice (optional)
We recommend peppermint, vanilla, sweet orange, mandarin.
How to make it:
Combine the sugar or salt and cocoa powder. Then, pour in the oils and honey then mixed thoroughly. Last, add essential oils and mix then add to jars. 
To use, gently massage a palmful of scrub into wet skin using a circular motion and rinse. Enjoy!
HOT PACK FOR SLEEP
Sleep pillows are great for all ages and for those who have a difficult time falling asleep.  For a blend that encourages deep sleep, blend any of the following organic herbs:
Here are the herbs we suggest:
Chamomile: promotes restful sleep and calmness
Lemon balm: a mood uplifting herb
Catnip: Unlike for cats, this herb is sedating and relaxing
Lavender: improves sleep
You can also add a few drops of mandarin or lavender essential oil to your pack for added aroma and benefits. 
If you aren't quite sure how to sew a sachet, check out this simple tutorial from Itchin' for some Stichin' or this one from Sew My Place. If you are unsure what to fill the hot pack with then check out this blog.  The sachets are fairly simple to make so if you have even just basic sewing skills, you can make these.
MOISTURIZING LIP BALM
This Lip Balm is simple to make and can be used for both men and women. With cold and flu season upon us, you'll be thankful to get some of this incredibly moisturizing lip balm. Choose a scent that best suits your needs. Think about peppermint when you are a bit stuffy or vanilla for everyday use.
Here's what you'll need:
1 tsp Beeswax 
1 tsp Cocoa Butter
2 tsp Shea Butter
1 tsp Jojoba Oil
1 tsp Sweet Almond Oil
15  drops essential oil (again, peppermint or vanilla are great additions)
10 drops vitamin E  
Here's how you'll make it:
Melt beeswax, cocoa butter, shea butter, and oils together in a double boiler. Once all ingredients are melted, remove from heat.
When the mixture has cooled down a bit, add essential oil and the vitamin E into the mixture. Stir and pour into lip balm containers. Allow to solidify.
Alternatively, you can reuse clean cosmetic containers or small metal tins for storage. This should be hard enough to use in lip balm tubes as well. 
EARL GREY CREAM BATH FIZZIES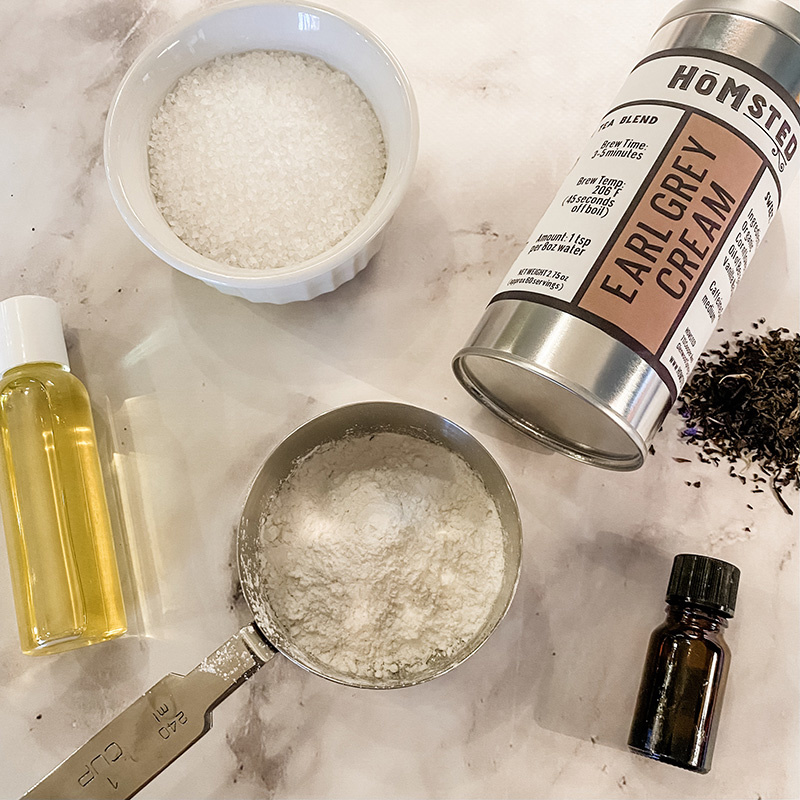 These bath fizzies are seriously a wonderful addition to any Herbal DIY gift package! They are unique because they include our own Herbal Tea Blend, which has luscious hints of vanilla and bergamot. The added bergamot essential oils are a great addition as it is one of our favorite mood liftings essential oils.
Here's what you'll need:
1 cup citric acid
3 cups baking soda
¼ cup Earl Grey Cream Tea
¼ cup apricot kernel oil
witch hazel in a spray bottle
1 dropperful of liquid vitamin E
60 drops of Bergamot Essential Oil
Here's how you'll make it:
First, grind the tea with a coffee grinder into a fine powder. Then, mix the citric acid, baking soda, and powdered tea together in a bowl.
Spray the mixture with the witch hazel approximately 30 times. Do not pour the witch hazel straight from the bottle as this will start the fizzing reaction!
In a separate bowl, add the bergamot essential oil and the vitamin E to the apricot kernel oil.
Then, slowly mix the oil mixture into the dry ingredients. Once all the ingredients are mixed together, test the consistency by rolling into a ball. If it doesn't hold firmly, drizzle a small amount of almond kernel oil into the mix again. Just keep in mind that too much almost oil can inhibit the fizzies from holding together.
Press firmly into a mold or roll into balls. Allow to sit out overnight.
Drop into your warm bath water for a fragrant and calming experience with lots of fizz!
FESTIVE BATH SOAK
With this bath soak, you'll find that the mixture of orange, ginger, and cinnamon combine to make a perfect holiday scent. Sweet Orange is a cheerful scent that acts as a mood enhancer and stress reliever. Ginger also works to improve mood and helps improve circulation and digestion. The hint of cinnamon adds a warming touch and makes the holiday feel complete.
What You'll Need:
1 cup Epsom Salt
½ cup Dead Sea Salt or Pink Himalayan Salt
½ cup powdered dry oats
1 Tablespoon fresh or dried ginger root
1 Tablespoon cinnamon chips
10 drops sweet orange
3 drops peppermint
2 drops ginger
Here's how you'll make it:
Combine the salts, oat powder, and dried herbs. Add essential oils and stir well to combine. Store in a jar. You can also recycle empty containers.  Just add a label, ribbon and wrap in chiffon or
Here's how to use it:
Add about a 1/4 cup of mixture to a muslin bag and hang the bag over the bath faucet. Let the warm water run over the bag as you are running your bath.  Once the water has filled the bathtub, just toss the bag into the water while you soak.
So, there you have it – our top Herbal DIY Gifts to give this holiday season. Which ones will you be making? Make sure to leave us a comment below or tag us @homsted_lifestyle!