Login
Log in if you have an account
Dont have an account? Register
Late Season Gardening
22 Jul 2021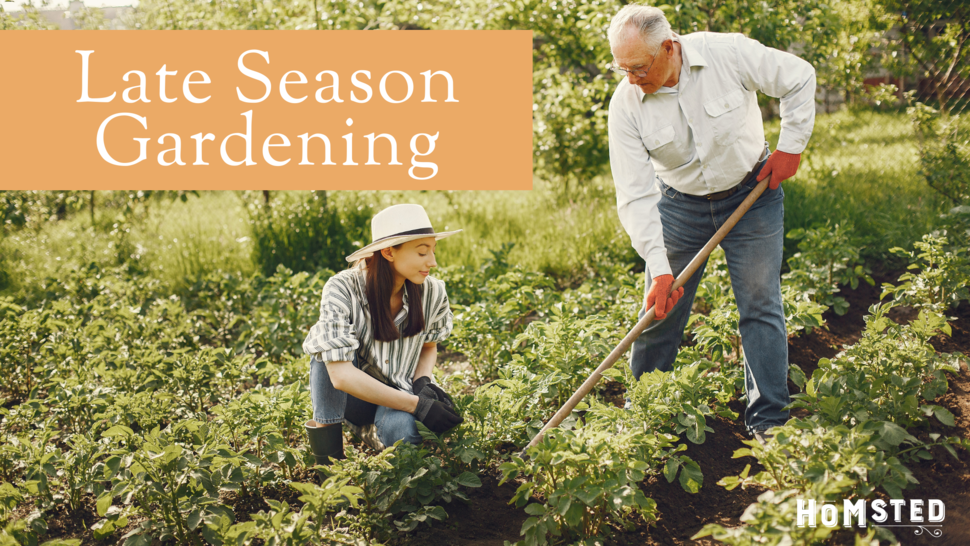 Many people get a great start planting seeds in the spring but tend to loose momentum throughout the summer and into fall.  There are many opportunities to plant seeds later than you might think.  We have put together a cheat sheet to help guide you on when to add to your garden.
First, let's discuss the distinction between cold and warm season crops:
Cold Season Vegetables are vegetables that will survive an unexpected or early snow, frost or cooler weather.  If you live in a cooler climate and are new to gardening than growing cold season vegetables is a great way to start.  Examples include: arugula, asparagus, fava bean, beet, broccoli, brussel sprouts, cabbage, carrot, cauliflower, kale, leek, lettuce, onion, parsnip, pea, radish, spinach, swiss chard and turnip.  Some are plants are very tolerable to the frost and snow while others such as broccoli, cabbage and cauliflower need some cover protection when young.
Warm Season Vegetables are plants that are native to warmer climates and do not tolerate long-term cold weather. They require protection from cooler weather and much more attention. However, you can get some varieties of these plants that are acclimated to colder climates which can help. Some vegetables include corn, cucumber, green bean, pepper, squash, tomatoes. 
Where do I plant things later in the season?
Tuck the seeds in any open real estate in your garden or landscaping.  You can also put seeds in areas where crops were growing prior, but be sure to add in some nutrients in the soil before seeding.
When should I plant?
Since we live and grow in Colorado we based out chart for growing zones 5 and 6.  We also based our chart off of a mid October freeze date.
Plant

Days to Emerge

Days to Maturity

Last time to plant before first freeze

Season

7-14 days

30-45 days

Mid-Aug

Cold Season

BASIL, HOLY (Tulsi) - Ocimum tenuiflorum

5-10 days

60-85 days

Annual

Mid-July

Warm Season

BASIL, ITALIAN MT. - Ocimum basilicum*

5-10 days

60-85 days

Annual

Mid-July

Warm Season

5-10 days

60-85 days

Annual

Mid-July

Warm Season

BEANS, BUSH - Bluelake

8-10 days

55-65 days

70-75 shell

80-100 dry

Mid - Late July

Warm Season

5-21 days

60-65 or sooner for leaves

Mid-July

Cold season

7-14 days

45-75 variety differences

July

Cold season

5-10 days

80-110 days

Early-July

Cold season

7-12 days

60-80 days

Mid-July

Cold season

10-25 days

65-75 days

Direct seed every 3 weeks until Mid August

Cold season

CAULIFLOWER

8-10 days

50-80 days

variety differences

Mid-July

Cold season

CELERY

14-25 days

80 days

Spring Plant

Cold season

10-15 days

Perennial

Spring-Summer, Early Fall

Cold season

CILANTRO - Coriandrum sativum*

10-20 days

50-55 days

Mid-July, likes cool weather

Cold season

CORN - Sugar Buns Hybrid (F1)

5-10 days

68-80 days

Spring Plant

Warm Season

5-10 days

85-120

Spring Plant

Warm Season

5-10 days

48-65 days, depends on variety

Mid-July

Warm Season

FENNEL (herb) - Foeniculum vulgare

14-21 days

90 days for bulbs, less for foliage

Mid-July

Cold season

GARLIC (herb) - Allium sativum

10 days for warm fall

9 months for fall planted

From Mid-Sept to

Mid-Oct

Cold season

5-10 days

50-55 days

Early August

Cold season

LEEK

7-14 days

40 days for baby leeks, 84-100 for full size

Mid-August. Can harvest after a couple of frosts

Cold season

LETTUCE - Mesclun Mix

5-10 days

50-70 days

Every three weeks until early fall

Cold season

5-10 days

65 days

Every three weeks until early fall

Cold season

MELON

5-10 days

60-85 days

Spring Plant

Warm Season

MUSTARD GREENS - Brassica juncea

7-10 days

50 days

21 for baby leaves

July-early September

Cold season

ONION, PEARL - Chrystal Wax

7-15 days

70-150 days per onion day length

Spring Plant for seeds

Cold season

14-28 days

60-75 days

Mid-July, Soak seeds prior to seeding

Cold season

PARSNIPS - Pastinaca sativa

10-25 days

85-120 days

Harvest in fall after frosts

Cold season

5-10 days

50-65 days

Mid-July, soak seeds prior to sowing

Cold season

PEAS, SNAP - Super Sugarsnap

5-10 days

50-65 days

Mid-July, soak seeds prior to sowing

Cold season

10-21 days

70-90 days

Spring Plant

Warm Season

10-15 days

65-85 days

July for early maturing

Warm Season

5-10 days

95

Spring Plant

Warm Season

RADISH - Raphanus sativus

5-10 days

20-30 days

Late summer until first fall frost

Cold season

SHALLOTS - Allium cepa var. aggregatum

10-15 days

100 days

Zone 5 or warmer fall or spring plant, Zone 4 or colder spring plant

Cold season

6-10 days

30-45 days

Cold hardy types can overwinter

Cold season

5-10 days

45-65 many varieties

Mid-July

Warm Season

5-10 days

85-110 days

Spring Plant

Harvest before first fall frost

Warm Season

5-10 days

85-110 days

Spring Plant

Harvest before first fall frost

Warm Season

WINTER SQUASH - Spaghetti

5-10 days

85-110 days

Spring Plant

Harvest before first fall frost

Warm Season

5-10 days

45-65 many varieties

Mid-July

Warm Season

SWISS CHARD - Beta vulgaris

5-10 days

25 days – baby leaves

50 days –  bunch

Spring-Summer-Early Fall

Cold season

5-10 days

60-110 depending on variety

Spring Plant

Warm Season