Login
Log in if you have an account
Dont have an account? Register
Homesteading Resources for Readers
12 Sep 2020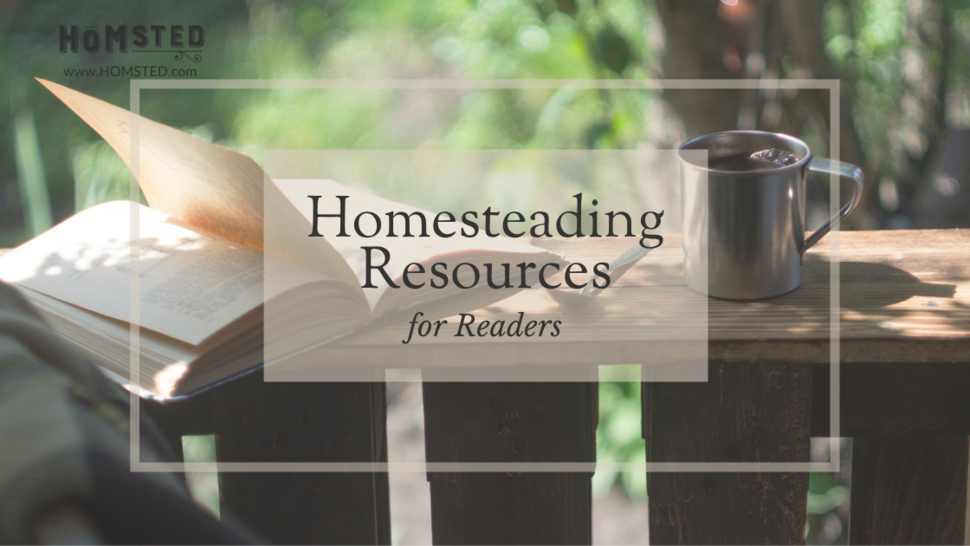 Now days, there are hundreds of resources you can find on the internet regarding homesteading. There are so many to choose from! So how do you know which ones to grab and read?
You can either start with general books on homesteading as a whole or focus on a specific topic within the homestead, like cooking, gardening, or even raising animals. 
We've done our fair share of reading and selected the books packed with the most useful information. These are the books we turn to time and time again. They have proved helpful in many instances and we will only recommend those books that you can truly rely upon to provide detailed, thorough, and helpful information. 
The information provided is useful for both for beginners are experienced homesteaders alike as each book contains valuable information for those just starting on their journey. In addition, some of the ideas discussed in these books go into further detail for those who have a bit more experience under their belt. 
You'll find below our favorite book on homesteading along with books that are devoted to the following categories: foraging and recipes, gardening, herbalism, natural pregnancies and child-rearing, and even home brewing. 
Now, there is certainly some overlap with the contents of some books, but the books are mostly presented in their main categories. For example, you'll find many healthy recipes and some tips on herbal treatments in both books regarding pregnancy and raising children. 
So, take a look at these books to see which ones you'll want to grab and delve into. And make sure to pin this article so you can come back again and again. 
Happy Reading! 
Recommended Books for General Homesteading Topics
The Hewitt family details their journey to making their own homestead in northern Vermont. The book details their own experiences through over twenty years of "experimentation, triumphs, failures, simple curiosity, and, perhaps most important, passion." (page 7)
You'll also find tons of information on their own practice and philosophy of homesteading, their concepts and ideas for designing your homestead, practical advice on gardening and soil, taking care of and slaughtering animals, raising children on the homestead, as well as the infrastructure, skills, tools, and financial matters that are important to any homestead. 
Besides the vast knowledge that the couple shares, one of the best resources in this book is their detailed list of further resources. The provide further websites, books, and suppliers that might be of interest to the reader if they want to research a specific topic further. In fact, a few of the books that they mention for further reading are listed below. 
Without a doubt, you'll find plenty of information that will be useful to you in starting your own homestead. It's an enjoyable read because the Hewitt family really takes you along with them as they discuss their own homestead adventures. 
Recommended Books for Foraging and Recipes
Ever heard of Crunchy, Candied Tree Leaves? Do you know what locally foraged woods are good for grilling? What stones can be used in the kitchen? These are just a few of the topics that are covered in this book. 
In his book, the author starts by detailing his own journey into foraging and finding local flavors. It's his personal journey and he shares the knowledge he's gathered in the process.
There are four main sections, each focusing on a season. Winter teaches you about what you can use and find in the Forest; Spring focuses upon greens; Summer focuses on berries and fruits; and Fall focuses on Seeds. 
He shares numerous recipes and ideas of what to forage and when, provides beautiful photography of finished dishes and items to forage, and provides detailed descriptions of what to look for. 
Foraging is, in and of itself, an adventure – so he encourages you to treat it as such. And don't worry if you don't live in the US – you can still try the ideas and recipes with your own local flora and fauna. 
And if you need an additional reason to support the authors efforts, just know that the publisher is part of the Green Press Initiative. This is a nonprofit program that is dedicated to supporting authors, publishers, and suppliers in their efforts to reduce their use of fiber obtained from endangered forests. 
The author introduces the book by discussing her own personal journey with foraging, where to forage, why she chose these plants, and how to be careful when foraging – all important aspects for the beginning forager. She takes us along with her on her personal journey to rediscover plants and weeds that have long been forgotten. 
The book is divided into small sections discussing numerous plants that are native to the US with each section describing all the important and relevant details of that given plant. From Amaranth to Wisteria, you'll almost certainly find a few new wild plants to forage. 
Each section is carefully thought out with cultivation tips, how to collect and prepare, and any specific cautions that may be relevant for that particular plant. In addition, you'll find numerous recipes that will suit any taste buds. 
And to make it easy, all recipes are listed in the Appendix and labeled according to diet preferences: Vegan, Vegetarian, Pescatarian, and Omnivores. You'll also find the recipes grouped into appropriate Menus – an easy reference for the cooks among you. 
And, like Pascal Bauder's book discussed above, this book is also published through a member of the Green Press Initiative. 
In this book, the author details her painful struggle with health issues and how she came to writing this book. She details the importance of nutrient density and becoming a "nutrivore" – a person who prioritizes eating nutrient-dense, high-quality, and in season foods. 
"In The Nutrient-Dense Kitchen, Mickey teaches you everything you need to know about eating like a "nutrivore." You'll start with a comprehensive tour of nutrients that are essential for both optimal health and deep healing, with handy charts to help you identify which foods contain them in varying amounts. You'll also get an overview of Autoimmune Protocol details, some creative ideas for affordably sourcing the highest-quality and most nutrient-dense ingredients, and tips for setting up your kitchen to cook whole foods." [summary excerpt from book cover]
She provides (as the title suggests) 125 recipes that follow her guidelines, meal plans according to the season, and even how to use your Instapot to help in cooking. She's taken into consideration as well those on a budget. In doing so, she makes this plan accessible to anyone interested in bettering their own health. 
This book is perfect for those of you searching for a more sustainable lifestyle as the recipes and ideas included in this book are incredibly useful in replacing many store-bought (and sometimes chemically-based) products. 
We recommend this book because it not only includes simple, healthy recipes for you to eat, but also easy, uncomplicated "recipes" for crafts and self-care, like face masks, hand scrubs, and herb candles. It's a thorough guide on using seasonal goods throughout your house – not just in the kitchen. 
She includes a detailed list of what you should include in your pantry and how to use basic ingredients to make various herb-infused salts, flavored sugars, and homemade produce sprays and washes. Once you have many of the simple ingredients, she then provides recipes for soups, salads, and whole meals that you can make yourself. 
"There are many original ideas for using veggie boxes, local stores, and markets to buy quality produce so you don't even need a garden to make these recipes." [excerpt from book cover] In short, the author has provided a great reference for those seeking a more sustainable lifestyle by using seasonal produce and goods. 
Recommended Book for Home brewing and Fermentation
You'll find all the information you need to make your own apple cider in this book. The author has thoughtfully laid out the entire process of cider making, starting from growing your own apples to the fermentation process. 
This is also a go-to guide from any questions you might have about how to prepare for making your own cider, the material and supplies you'll need, to typical problems that arise when making apple cider and how to avoid them. 
If you've ever consider making your own apple cider, this handbook is an excellent resource. Even if you aren't interested in growing your own apples, you'll find out what varieties are best for the desired end product based on your own growing region. 
For example, for those of you living in Colorado and the Rocky Mountain Region, you'll find out who makes excellent cider in your region, and what apple varieties make the best cider. The author has collected a significant amount of information from each climate zone and this can only serve to benefit the reader. 
This author, too, has published his book through Chelsea Green Publishing, a member of the Green Press Initiative. 
Now you've probably seen this book recommended on many other homesteading and fermentation resource lists – and with good reason. This is a truly in-depth exploration the concepts and processes of fermentation. 
And it's not just a look at fermentation with regards to the typical fruits, veggies, and other edibles. You'll find detailed chapters dedicated to the benefits of fermentation as well as the basic concepts and equipment needed. 
Instead of detailed recipes, you'll find short summaries on how to make numerous fermented edibles and drinks. It's not laid out in the typical recipe format, but rather the process and methods are carefully explained, thus making them quite easy to follow. 
In addition to these numerous "recipes", the author also explains what considerations one must take when considering taking their fermenting skills to a commercial level as well as how the fermentation process can be used in non-food ways, like waste management.
The entire book is well thought out and well-explained. It's a manual that both beginners and experts alike can learn from and a book that is highly recommended by many homesteaders. And, as many other books in this list, the author had their book published through Chelsea Green Publishers.  
Recommended Books for Gardening on the Homestead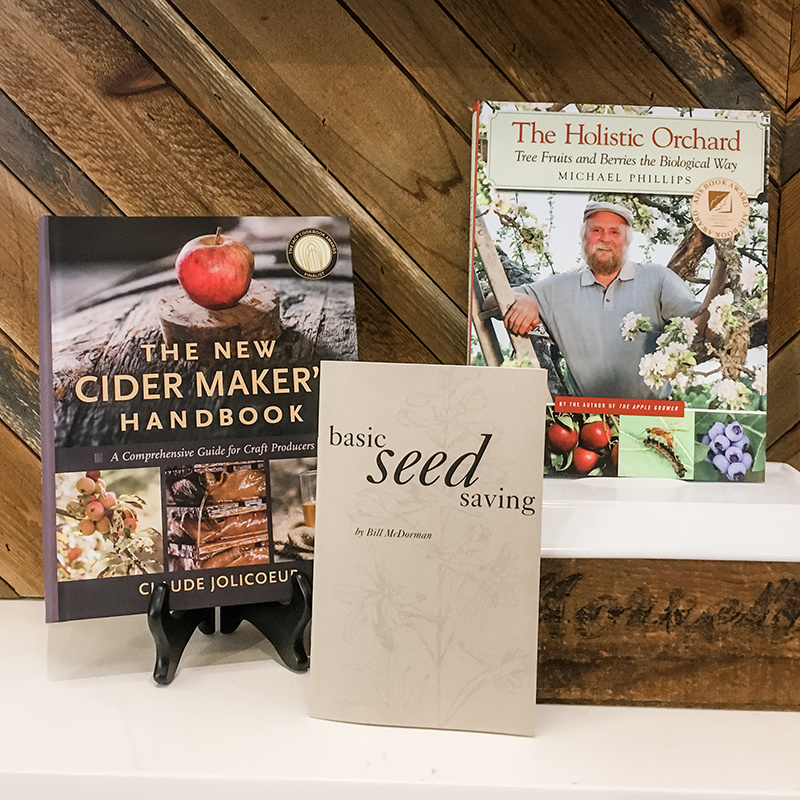 There have been many books written about how you can start your own orchard. But the author takes it one step further by urging a holistic, biological methods – a so-called organic solution – for growing our trees and berry bushes and dealing with insects and disease. 
This book is another great example of the author going through an experience and bringing the reader along for the ride (in this case, growing an orchard). By going through this process himself, he emphasizes that this book is for beginners and experts alike, or an orchard grower at any stage along the way. 
Before delving into growing your own trees and berries, the author provides a solid foundation for the growing process by explaining in excellent detail the ecosystem, design, horticulture, and dynamics of an orchard. In fact, a chapter is dedicated to each topic so you can fully understand the entire ecosystem of an orchard. 
In addition to step-by-step instructions for starting your orchard with either pome fruits, stone fruits, or berries, you'll find an extensive list of resources for your orchard listed in the Appendices. 
You'll find nurseries listed from Washington State to New York (and even a few from Canada) that can offer services to help in your orchard growing process. In addition, the author has provided a helpful list of useful websites, recommended books, and even fruit networks!
Although this book dates back to 1994, the information held within this shorter, 49-page book is foundational. We often think of older things as being outdated, but the fact that this book is still around and still being recommended says tons about its value. 
The author encourages you to start from the front and work your way through. There are step-by-step instructions that guide you through the process and the instructions are sorted by level of difficulty – increasing with difficulty as you progress through the book. And he has specifically designed the book with clear instructions to help beginner gardeners avoid becoming discouraged. 
Any home gardener who is interested in saving their own seeds and avoiding the need to buy seeds from those big box stores, should have this book in their library. 
Recommended Books for Herbalism 
The third edition of this book is highly expanded and includes encyclopedic-style entries on 190 herbs that you should know as an herbalist. What many herbalists find incredibly useful is the Herb Chart, which details how each plant can be used in the harvesting and preparation of liquid extracts. 
Indeed, the book is well researched with almost 1,000 citations that support the authors claims. You'll find a wide range of possibilities for using each herb in a variety of tinctures, teas, salves, and elixirs, to name a few. She also clearly discusses the advantages and disadvantages for each method. 
As many of the reviewers write, the author has provided an incredibly useful guide for both professionals and novices in the study of herbalism. 
Recommended Books for a Natural Pregnancy and Child-rearing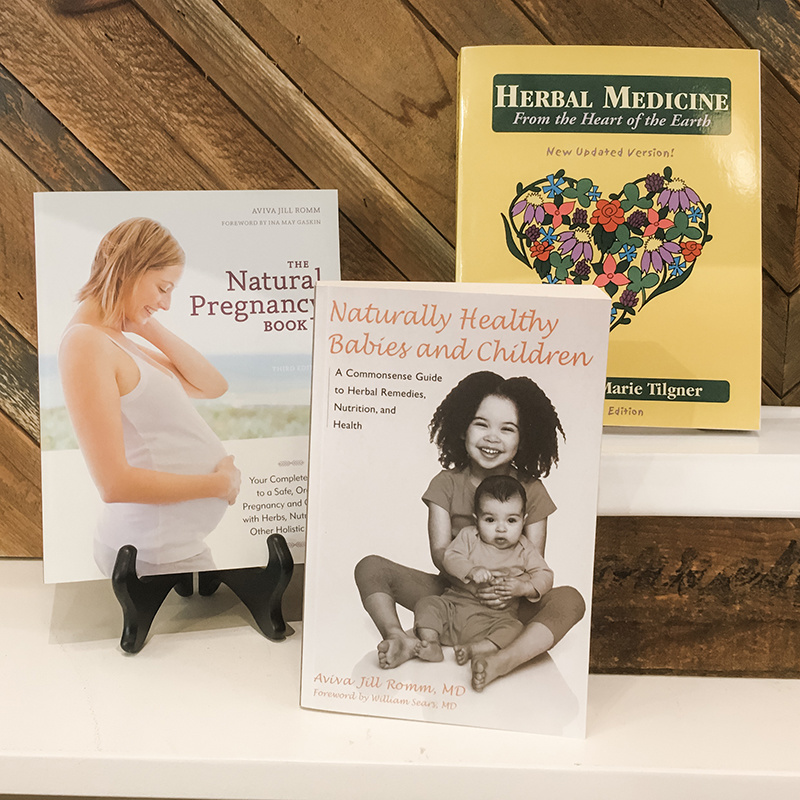 You'll find that this book is in its third edition already, but we recommend this first revised edition. The 2003 edition was updated to reflect "not only the art of natural healing, but also the emerging science as well." (Preface, xviii)
In this book, you'll discover an entire range of topics that concern you, your body, and your baby during the pregnancy, like proper prenatal care, nutrition, herbal remedies to use and those to avoid, emotional changes during each trimester, and common concerns during your pregnancy. This book also includes two appendices: one on herbal preparations you can safely use during your pregnancy and common and Latin names for the herbs used in the book. 
This book is by the same author as the previous book on having a natural pregnancy, Aviva Jill Romm. As a continuation, she writes this book to helps parents of children, from newborns to adolescents by offering advice on natural remedies. 
She has divided the book into three main parts: the first section deals with herbalism and natural healing; the second part addresses the needs and care of the newborn and baby; and the final section outlines natural healing for children. 
This last section is conveniently divided by the various ailments that can affect children, ranging from asthma to whooping cough. This makes the book a handy reference when seeking out herbal remedies. And to make it easier, she includes what one should have at the ready in your herbal first-aid kit. 
It is important to point out that the author emphasizes leading a healthy lifestyle and to try these herbal remedies but if these aren't working or the child is seriously ill, then, of course, seek medical advice. She provides a balanced approach for the well-being of your child. 
So, there you have it. We hope you have found a few of these book intriguing for your own homestead journey. 
What books would you recommend to others as a "must read"? Let us know in the comments below!