Login
Log in if you have an account
Dont have an account? Register
From the Kitchen of an Herbalist: Rose & Vanilla Cake
26 Feb 2022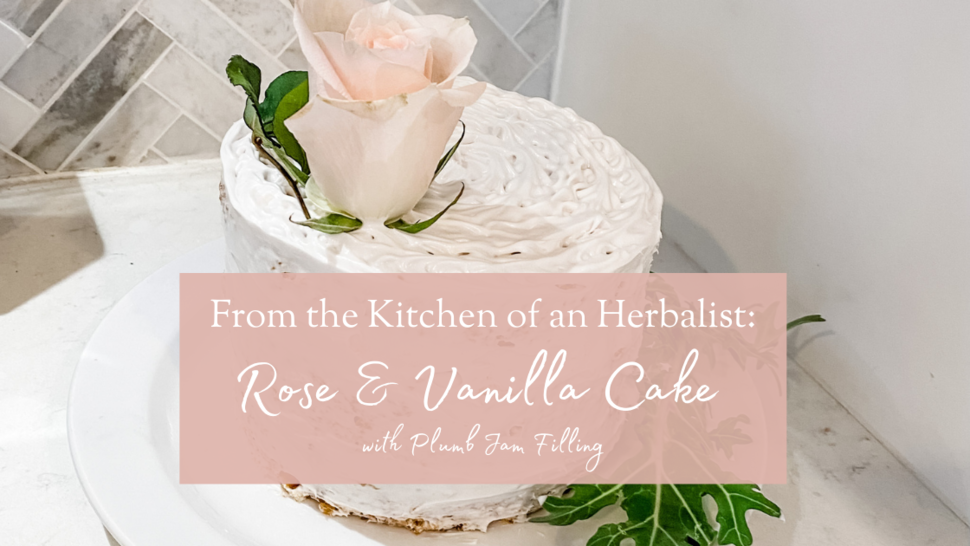 There can not be a more decadent or luxurious taste than rose.  Adding it to your baking gives a unique and delicious addition.  Rose has been used since ancient times as a mood uplifter and a calming scent that warms the heart.  Rose hydrosol is the perfect addition to cakes, cookies and an added splash to tea- we love to add it to our Vanilla Berry Chocolate tea or Jasmine Pearl Tea.  
What is a hydrosol? 
A hydrosol is the by-product of essential oil production, and is created from the water that is used to steam distill plants. When the water vapor moves through the plant it picks up some of the oils along the way. Once the water is separated from the oil the condensation is called a rose hydrosol. Hydrosols are safe for consumption and are used in abundance in Middle Eastern cuisine.  
Please Note: Many hydrosols on the market contain preservatives and are not recommended for ingestion.  We recommend that our hydrosols be refrigerated after opening as they do not contain preservatives.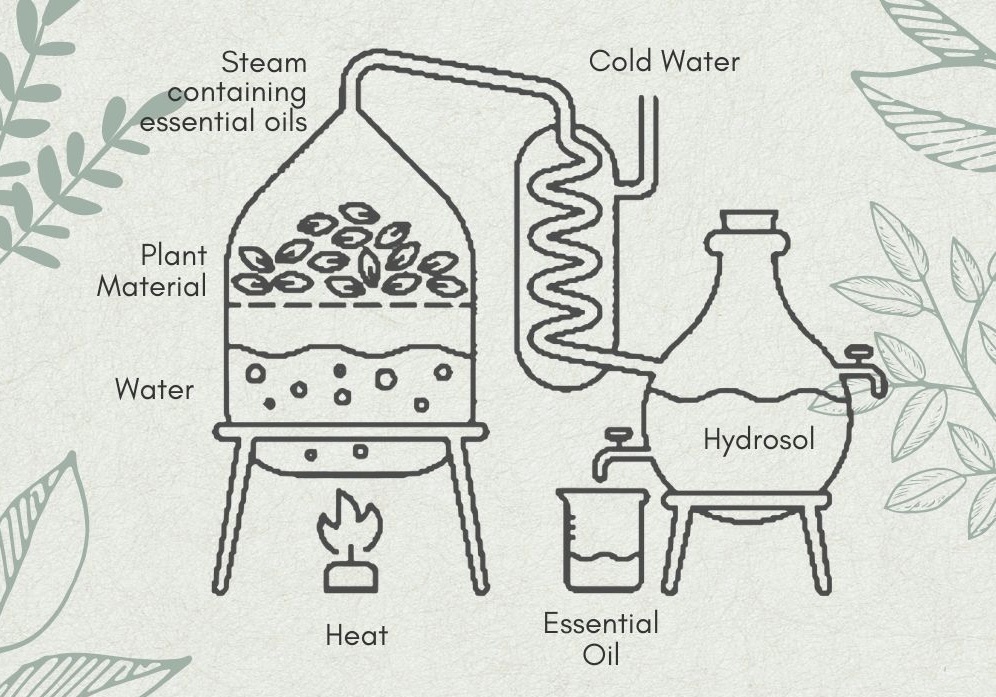 This cake was inspired by the cake my Mother made for my wedding day.  I encouraged her to replace some of the water she added to the vanilla cake with rose hydrosol and for the chocolate cake with lavender hydrosol.  To my surprise it turned out to be the best and some of the most unique cakes I had ever tasted.  They were a huge success.  I love to make this cake for Valentine's Day, tea parties, birthdays, Mother's Day and just because.  This recipe is a little more involved in the steps than a usual vanilla cake but it is so worth the extra couple steps.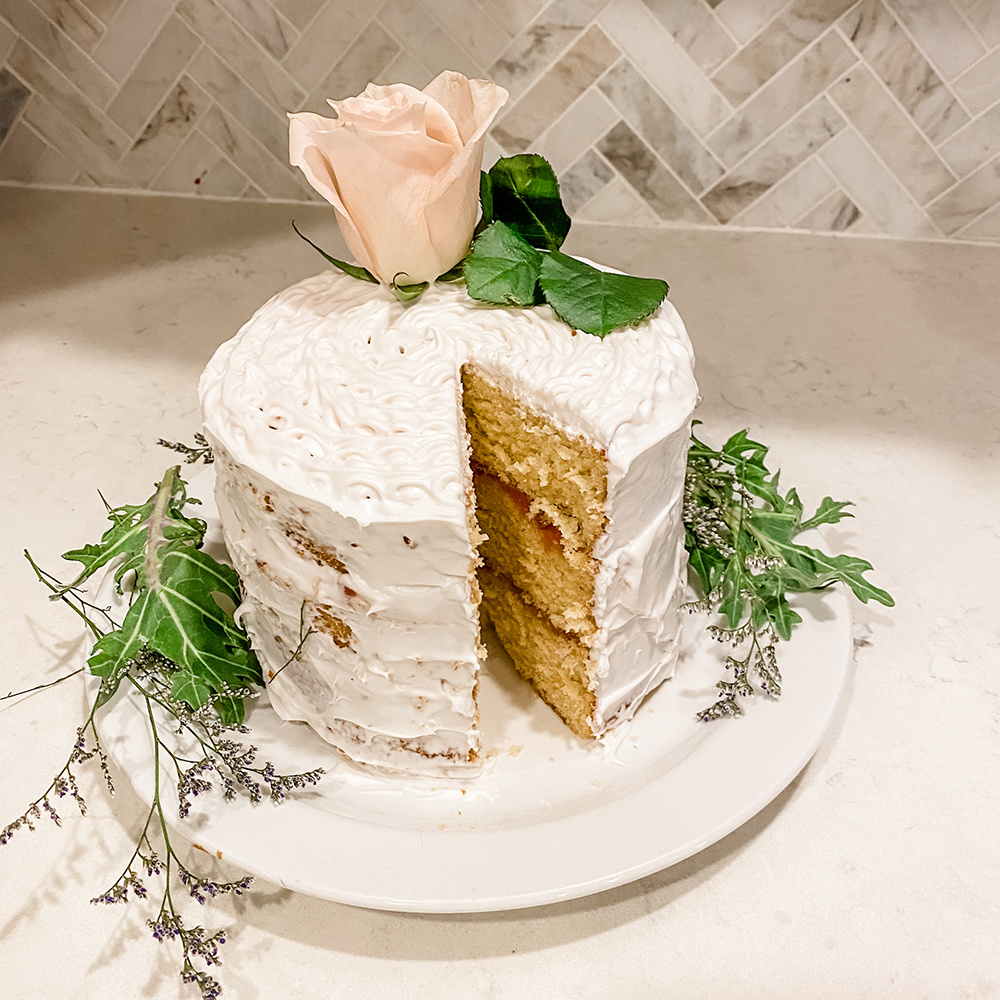 Ingredients for Cake
2 cups all purpose flour

2 1/2 tsp baking powder

1/4 tsp salt

4 large eggs

1 1/2 cups sugar

1/2 cup unsalted butter

3/4 cup milk

¼ cup

organic rose hydrosol

3 tsp vanilla extract

3 tsp vegetable oil

½ cup Jam
Ingredients for Rose Vanilla Buttercream
2 sticks unsalted softened butter 

1 lb powdered sugar

3 tsp vanilla extract

1 tbsp rosewater

2-3 tbsp milk 

 
 
Preheat the oven to 350°F. Place the shelf in the middle of the oven.

Grease pans.

Whisk flour, baking powder and salt in a large bowl. Set aside.

Beat eggs for 30 seconds on speed 6.

With the mixer still going, slowly pour the sugar.

Then beat for 7 minutes on speed 8.

Heat milk and butter in the microwave for 2 min until butter has melted.  Once cooled then add rose water.

Slowly add flour mix to the egg mix.  

Add about a cup of the flour/egg mix to the milk/rose water/butter.  Stir until well blended to thicken.  

Take this mixture and add it slowly to the rest of the flour mix.  Beat on speed 1 until it is mixed.  

Add mix to pans and bake for 30 min until golden brown.  

Once finished let it cool.  Cut off tops to make it stackable.

Add a thick layer of jam between layers of cake.
Frosting:
Beat softened butter with paddle attachment in the mixer for 3 minutes on high until it becomes fluffy and creamy.

Add powdered sugar slowly on low for about 3 minutes until fluffy.

Add vanilla, rose water and milk, then beat for another 30 seconds. Use milk only if needed to make it soft but still hold it's form. Use immediately. 
Plum Jam Recipe:
We are lucky enough to have our own plumb trees. It makes for some fresh delicious jam but if you don't have access to any plumb trees, then store bought ones will work perfectly.
Place 1 lb plumbs (halved and stoned) in a pan with ½ cup water.  Bring to a simmer and cook for 10 minutes until plums are soft but still intact.

Warm 2 cups of white granulated sugar in the oven on the lowest setting for 20 min.  This helps dissolve it quicker later on. 

Once sugar is warmed then add it to the fruit and stir over low heat until the sugar has dissolved.  Then turn up the heat and boil rapidly to reach the setting point.  The jam needs to maintain a high temperature to reduce and thicken so it will set as it cools.

Skim the top.  Sometimes when the fruit boils, it builds a scum on top.  This is harmless but can ruin the appearance once it sets.

Pour the jam into hot, sterilized jars and seal.  Pressure- or water-canning makes your jam shelf stable.
This recipe makes about 2 ½ cups of jam.
I really hope you enjoy this cake as much as my family and I do.  Remember- you can be creative in the kitchen by adding a bit of hydrosol to your dishes.  Trust me, your friends and family will approve!