Login
Log in if you have an account
Dont have an account? Register
Foraging Spruce Tips
27 May 2020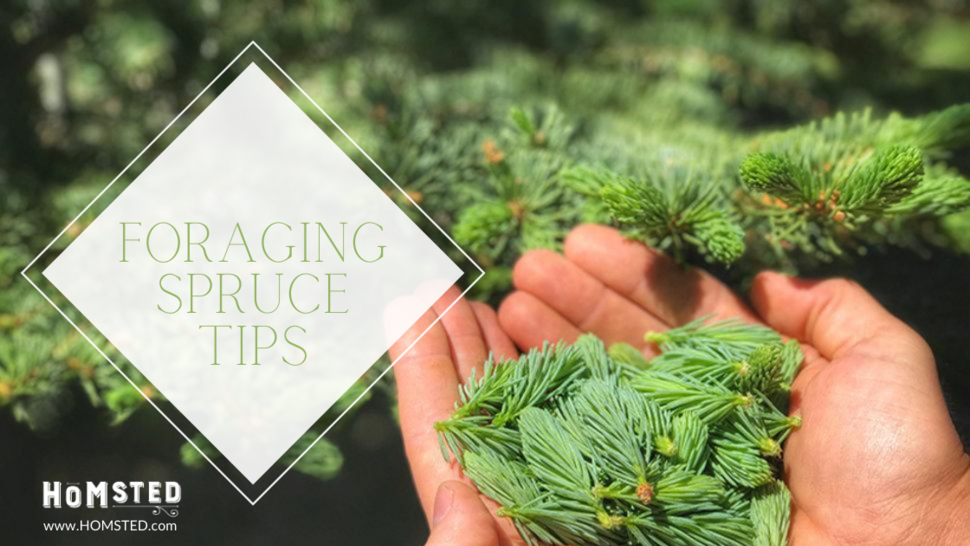 The easily overlooked arrival of spruce tips in the late Spring has to be one of my favorite times of the year.  It marks a time of transition from early Spring to the richness of late Spring.  Trees are finally greening out, the hummingbirds have arrived and the incandescent glow of orange poppies light up sidewalks across Colorado.  An equally extraordinary addition is the bountiful amount of foraging that is available. Young and tender plant shoots are appearing like chickweed, mallow, lambs quarters, dandelion and salsify.  Cattails shoots are appearing near water. 
However, one of the most overlooked, yet plentiful, foraging bounties are found on pines, spruces and firs.  Each year, the trees awake from their winter dormancy and burst to life through growth tips on almost every branch.  Each tip initiates growth under the concealment of a brown papery casing. This casing is easily removed, revealing the tender growth tip underneath. Even if the casing has been shed, the growth tips are easily identified by their lighter color and much more tender feel.  They lack the toughness and sharp points of year-old growth.  For foraging animals, these tips are a wonderful source of nutrients. Spruce tips are exceptionally high in vitamins A and C.  Medicinally, pine and spruce is a great treatment option, in tea form, as an upper respiratory tonic and for cough, sore throat and congestion.
While almost all pines, firs and spruces produce edible growth tips, spruce have to be my personal favorite.  Try some and you will quickly find that each tree has its own specific flavor ranging from sharp and resinous to sweet and lemony. The younger shoots, with the casing still intact, typically yield the best flavor with them becoming increasingly tough and resinous with age. Although they make a great trail-side snack on their own, there are an endless number of recipes and cooking ideas for spruce tips from ice cream to spruce tip beer.  Enjoy them as you like but don't forget to try them plain.  You'll quickly understand why they are such an amazing forage item.  They also make excellent tea! 
Spruce Tip Shortcake
Spruce Tip shortcake has to be one of my favorite deserts… particularly in Spring.  They are simple yet flavorful.  You will find the spruce taste is not overwhelming at all.  In fact, once you cook the spruce tips, they really have a very pleasant berry-like flavor.  A trick to shortbread is not to overwork the dough.  It is OK if not 100% mixed before pressing into the baking pan.  The butter will bring it all together!  These are best enjoyed with a cup of tea.
Spruce Tip Shortcake Recipe:
yield: 32 COOKIES prep time: 10 MINUTES cook time: 25 MINUTES total time: 35 MINUTES
INGREDIENTS
⅓ to ½  cup fresh spruce tips, depending on taste

1/2 cup Sugar

2 cups flour

1/2 tsp salt

1 cup butter, cold
INSTRUCTIONS
preheat oven to 350˚

line a baking sheet with a silpat baking liner or foil

in a food processor chop the spruce tips, add the sugar and process again

add the flour and salt, pulse to process one more time

chop the cold butter in slices and drop in the processor

pulse until mixed but not a complete dough ball

pour out on the baking sheet, press together, then press out to a 12X8 rectangle

use a knife to slice in 32 pieces, you can make them bigger or smaller if you like

bake 22-25 minutes, remove from the oven before they turn brown but make sure they're set as well