Login
Log in if you have an account
Dont have an account? Register
Making Pickles in a Jiffy
16 Jun 2020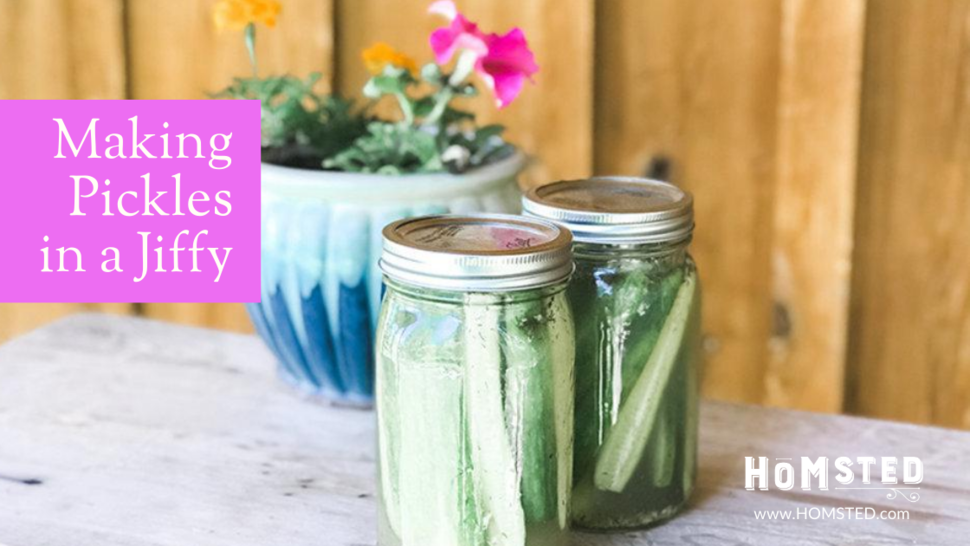 "On a hot day in Virginia, I know nothing more comforting than a fine spiced pickle, brought up trout-like from the sparkling depths of the aromatic jar below the stairs of Aunt Sally's cellar."
-Thomas Jefferson
Pickles are, undoubtedly, a part of the American experience since the very beginning.  Even in the mid 1600s, Dutch settlements planted extensive cucumber farms in what is now Brooklyn.  Markets in early America were full of barrels containing pickles of endless flavors and styles.  But pickling certainly didn't start here.  Archeologists believe that over 4000 years ago, ancient cultures like the mesopotamians were pickling cucumbers. Throughout the Middle Ages, pickles were a common condiment and snack in England. After Christopher Columbus brought them to the new world, the pickle phonemina has exploded in America.  During World War II, the U.S. government not only produced, but rationed pickles, and accounted for 40% of the country's pickle production.  
But how do you make these timeless and mouth watering treats?  Well there are basically three ways to make a pickle.  Today, we'll instruct on how to make them the quickest and easiest way, by brining.  But keep an eye out for future articles where we will discuss canning and fermenting. 
The 3 ways of making a pickle:
Can them, using traditional canning practices to create a shelf-stable item.

Ferment them, using bacteria in place of vinegar. 

Soak them in a vinegar/water brine and store in the refrigerator.
Canning Pickles:
Napoleon valued pickles for his armies, so much so that he offered the equivalent of $250,000 to anyone who could figure out a way to preserve food safely. In 1809 a man named Nicholas Appert (a confectioner) figured out that if you removed the air from a bottle and boiled it, the food wouldn't spoil- wha la a winner!  Appert's discovery was one of the most influential culinary contributions in history. Soaking pickles in vinegar and canning them is the most popular but can be a bit time consuming.  But, in return for your efforts, canned pickles, like other canned foods, have a long shelf life and can be stored without refrigeration.
Fermenting Pickles:
When you ferment pickles, they are usually not for canning, but rather live happily active lives in your refrigerator. They are fermented in a salt brine and get their delicious tanginess from a fermentation rather than vinegar.  The great thing about these types of pickles is they are full of healthy, immune boosting probiotics. This is our favorite way to make a pickle but can take a bit of time to ferment and they don't have an endless shelf life.
The Refrigerator Pickle or what we like to call "Making a Pickle in a Jiffy":
The brilliant thing about these easy refrigerator pickles is that they only take about 5 minutes to make, and require ZERO steps of the traditional canning process.  Which is great for those who want to quickly make a pickle or who are not into canning or preserving.  Keep in mind though, these pickles need to be refrigerated and will need to be consumed in about 2-4 weeks time.  But, given the immediate turnaround, it is so easy to experiment with flavors that can be later used when canning.
The Pickle in a Jiffy recipe:
Servings: About 24 spears, or two 1-quart jars
Ingredients:
1-1/4 cups distilled white vinegar (5% acidity)

3 tablespoons kosher salt

2 tablespoons sugar

2 cups cold water

1-3/4 to 2 pounds Kirby cucumbers (about 6), cut into halves or spears

2 tablespoons coriander seeds

6 large garlic cloves, peeled and halved

1 teaspoon mustard seeds

1/4 teaspoon red pepper flakes

16 dill sprigs
Tip: Be sure to get Kirby or pickling cucumbers. They're short, squat and make delicious crisp pickles. Don't substitute another kind of cucumber or you'll get soggy pickles.
Step 1: Make the brine. Combine the vinegar, salt and sugar in a small nonreactive saucepan (stainless steel, glass, ceramic or Teflon). Heat and stir until the salt and sugar are completely dissolved. Whisk in the cold water, then chill.
Step 2: Stuff the cucumbers into two 1-quart jars. Add the coriander and mustard seeds, garlic, red pepper flakes, dill sprigs to the jars, dividing evenly.
Step 3: Cover the cucumbers with the chilled brine. Cover and let sit in the refrigerator overnight. Then voila — with literally just about 5 minutes of prep time and a little marinating time in the fridge, these delicious pickles will be yours to enjoy!  The pickles will keep in the fridge for up to one month.
For your next iteration try adding carrots, cauliflower and green beans!