Login
Log in if you have an account
Dont have an account? Register
A Sip Around the World: Tea Traditions Part 1
07 Feb 2023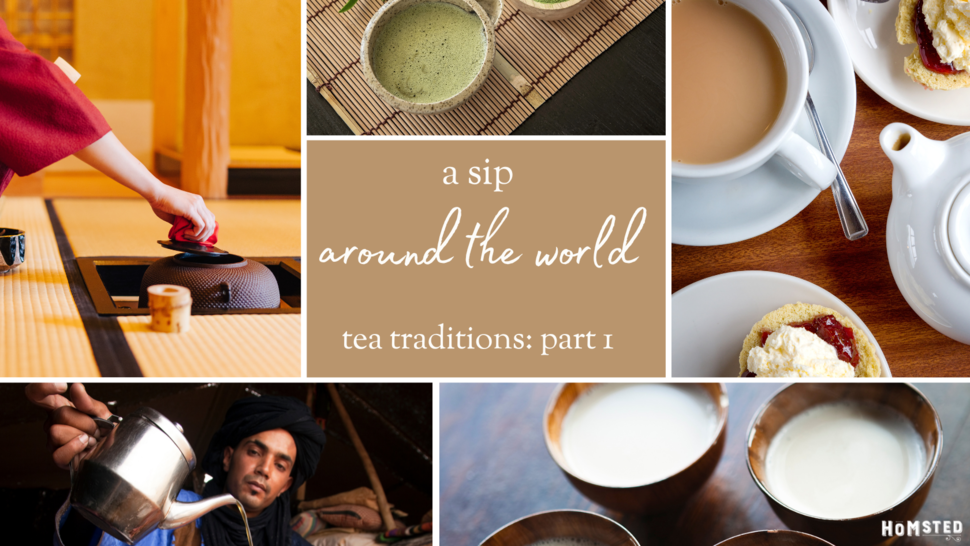 Tea is a big part of my life.  Not only do I drink several cups a day, but it is a family tradition. Growing up, my mom frequently took us to afternoon tea.  We try to visit a tea house wherever possible. In fact, my mom and I just visited a tea room the other day.  My first baby shower as well as my bachelorette gathering  were an afternoon tea theme! And anyone that knows me, knows I love throwing a good tea party. Not only is afternoon tea popular in our family, but has always been an important part of our travels.  
Since tea is the second most popular drink in the world (with water at first place), it has always been fascinating to learn about how different cultures add their own influences to this beverage. Tea and the tradition of sharing tea is one of the few things that most cultures share.  So come with me and take a SIP around the world!
THE UNITED KINGDOM 
Tea was introduced to Britain in the 17th century, but it was not until Anna, the 7th Duchess of Bedford, introduced society to "afternoon tea" in the 1800's. She wanted to bridge the gap between lunch and dinner. This idea spread first around to the upper class then across the country.  Today, afternoon tea is part of Britain's identity and day-to-day life.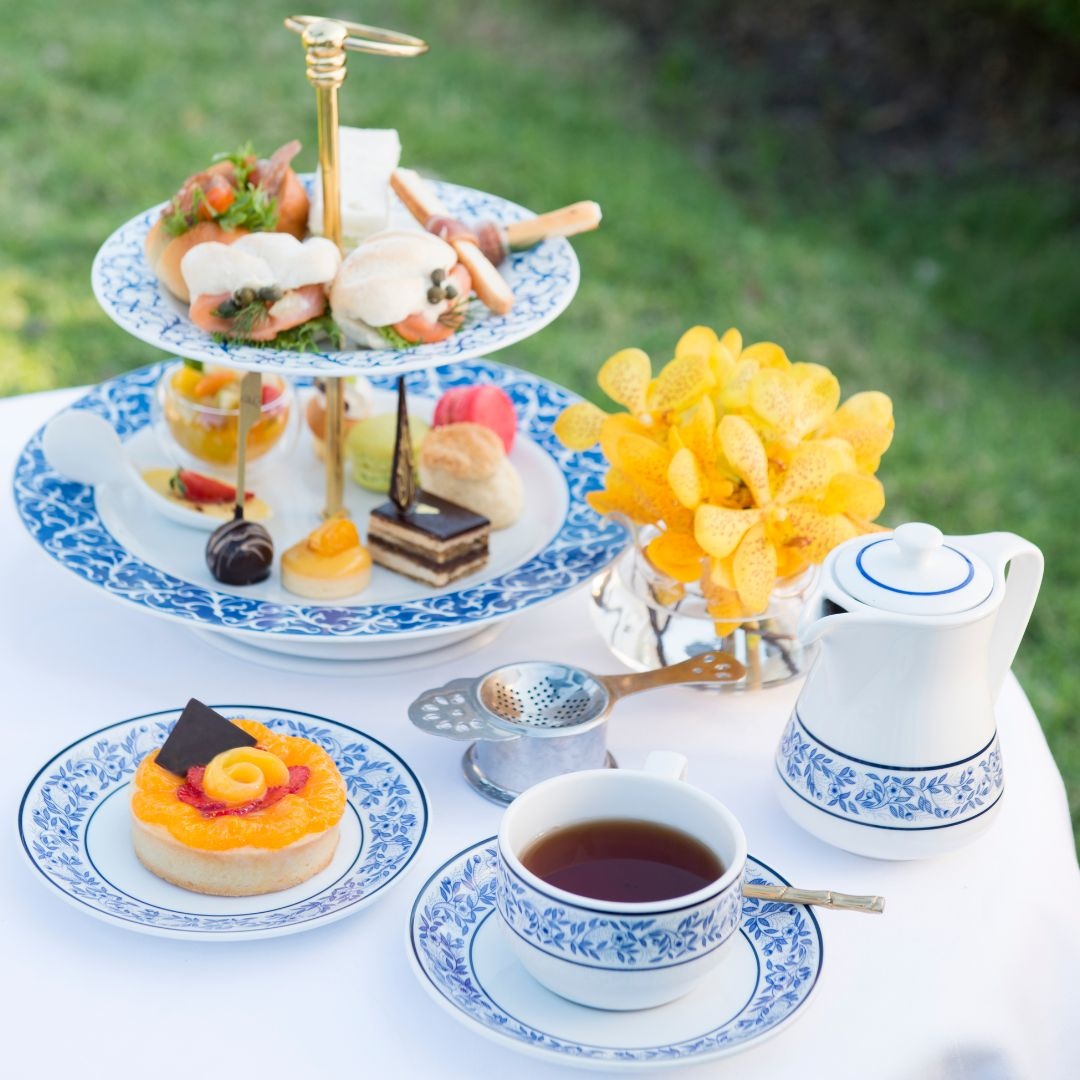 After recently visiting England during Queen Elizabeth II's 50th Jubilee, we had learned she was quite the tea connoisseur.  It is known that the Queen had afternoon tea every day, whether it was at Buckingham Palace or at a garden party for 6000 people. 
The Queens tea preference was Earl Grey, which is a black tea with added bergamot oil.  In the 1800's it is believed that bergamot oil was added to "lower quality" black teas to enhance the flavor.  But little did they know, it would be a smash and bergamot is now added to higher quality black tea, even Royalty can appreciate. 
When is afternoon tea served? People usually have afternoon tea between 3 and 5pm, and 4pm is often cited as the best time for afternoon tea.
What tea to drink: 
Earl Grey:  The namesake of Charles, England's second Earl Grey, this tea—traditionally a blend of strong black tea and bergamot—has been produced since the early 1800s.
Darjeeling: is a light, delicate tea–perfect for Afternoon Teas. 
Ceylon Tea: is slightly stronger than Darjeeling. Hailing from Sri Lanka, Ceylon tea yields a classic British-style cup and is often used in breakfast tea blends with a slightly sharp taste. 
English breakfast: is a popular morning and afternoon tea that is usually mixed with milk and sugar.  
What to eat with the tea: Many Brits like to enjoy their afternoon tea with small sandwiches, scones with clotted cream and jam, cookies and small desserts. Here is one of our favorite recipes: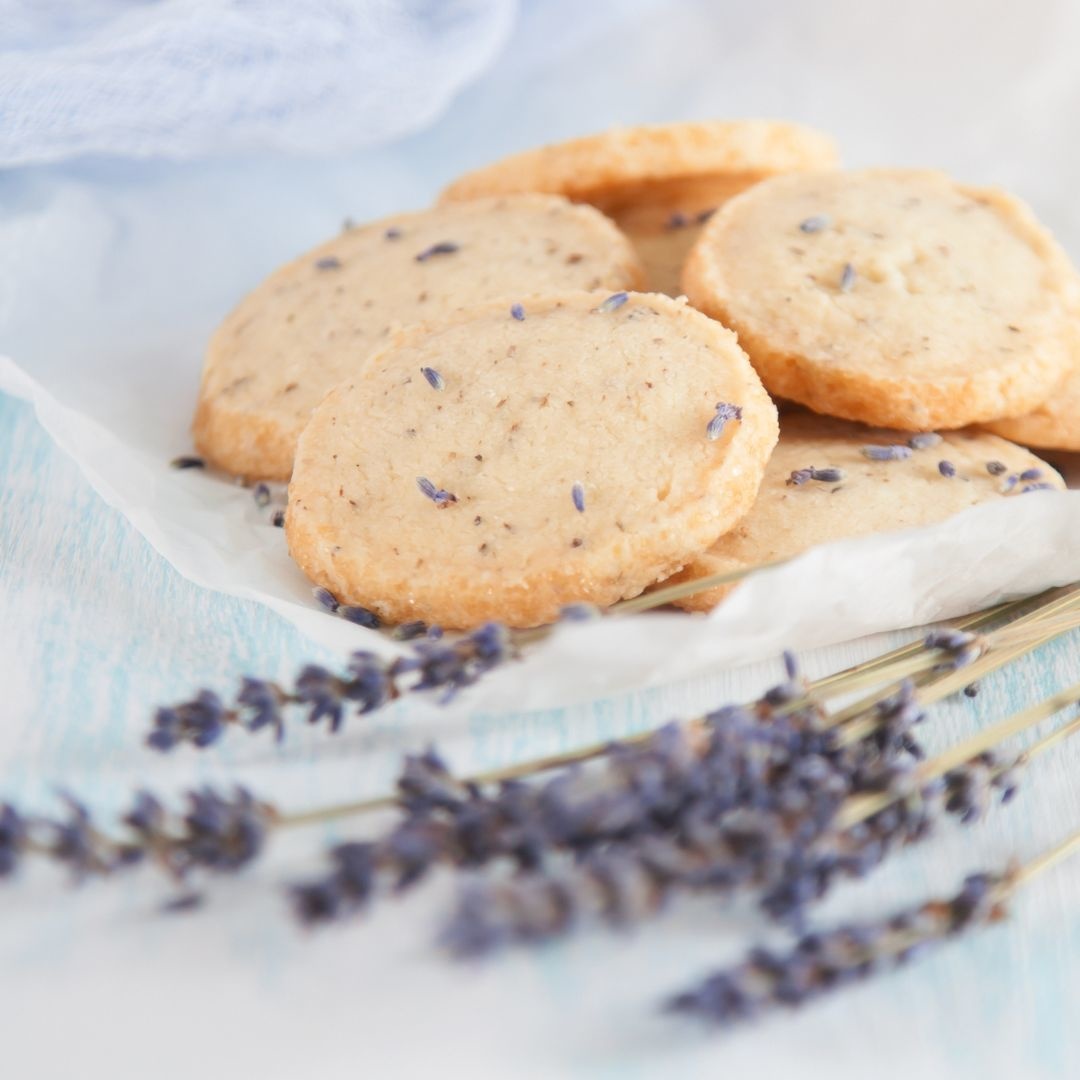 Lavender Lemon cookies
3/4 cup all-purpose flour
1/2 cup almond flour
2 tablespoons arrowroot
2 tablespoons sugar
1 tablespoon dried lavender1/2 teaspoon fine sea salt
1/2 teaspoon baking soda
1 stick unsalted butter, cut into 1/2-inch pieces, chilled
1 large lemon, zested
2 tablespoons honey
1 tablespoon fresh lemon juice

Place an oven rack in the center of the oven. Preheat the oven to 350 degrees F. Line a baking sheet with parchment paper. In a food processor, pulse together the flours, arrowroot, sugar, lavender, salt and baking soda. Add the butter and lemon zest. Pulse until the mixture forms a coarse meal. Add the honey and lemon juice. Pulse until the mixture forms a soft dough. Form the dough into 1-inch round balls and press into discs, about 1 1/2 inches in diameter and 1/4-inch thick. Arrange in a single layer on the prepared baking sheet. Bake until light brown around the edges, 9 to 11 minutes. Cool for 5 minutes. Transfer to a wire rack and cool completely, about 15 minutes.


MOROCCO 
Maghrebi or Moroccan mint tea is a mix of mint, green tea, and sugar. This blend is the customary blend in this country in North Africa. Little is known as to where this tea originated, but it has become a tradition in the Moroccan way of life.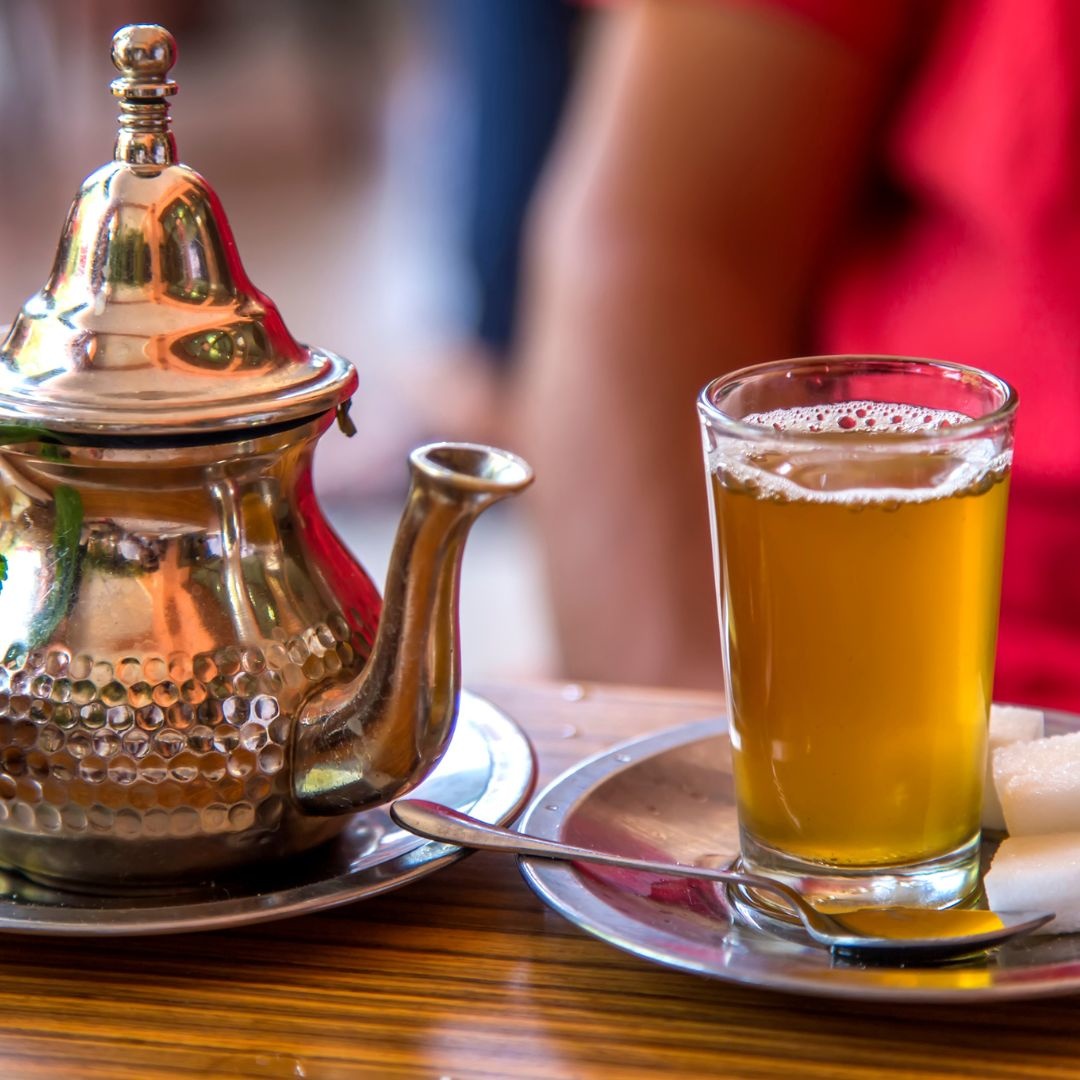 This tea is generally served throughout the day or after a meal acting similar to a digestif. When serving this tea to a guest it is poured in three glasses. If poured in the traditional way, each glass has a different meaning for the pour. The first glass is as gentle as life, the second is as strong as love, the third is as bitter as death. 
What to eat with the tea: Sweet nuts and raisins or sweet almond cookies blend really with this refreshing tea.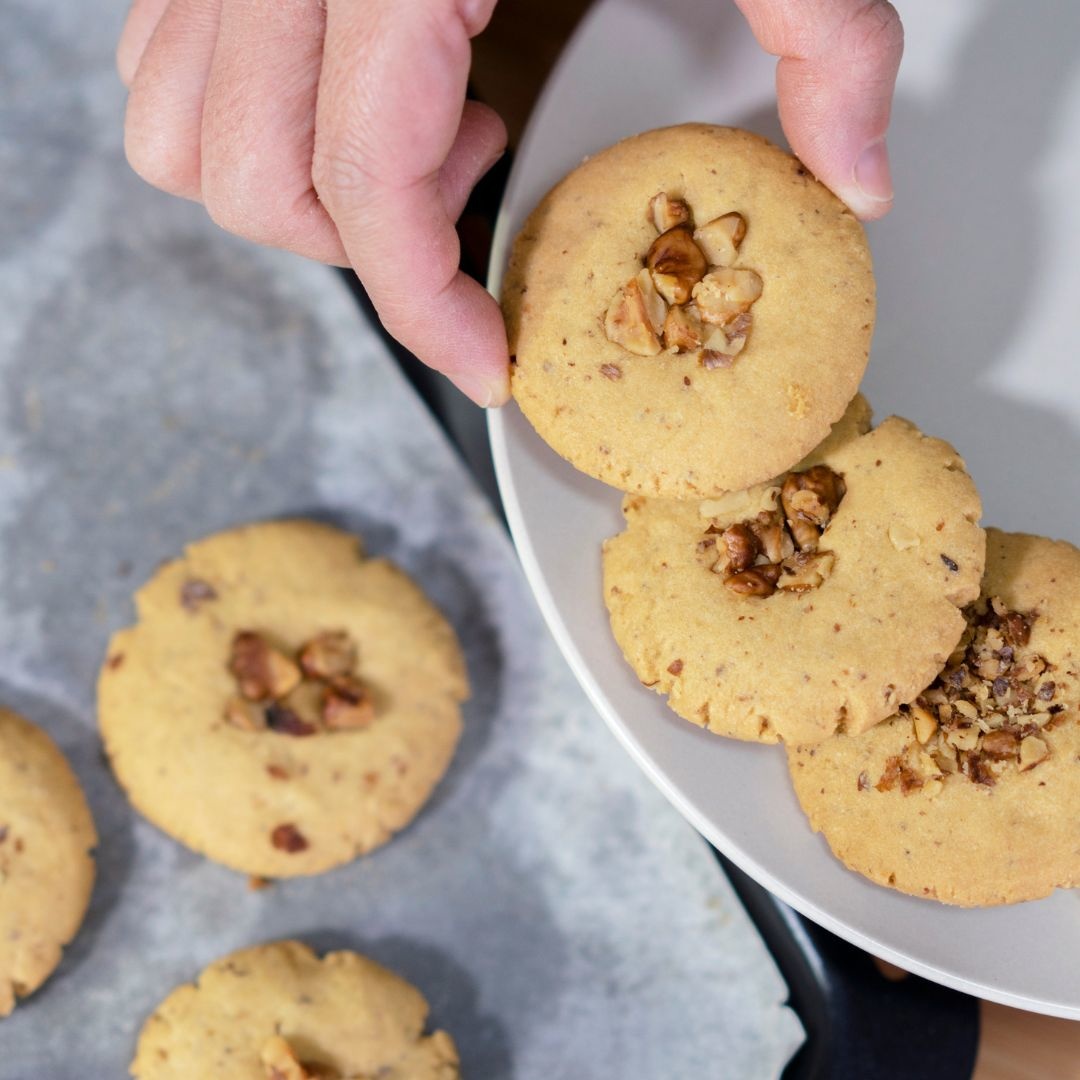 Moroccan sugar cookies
1 cup vegetable oil
1 cup sugar
3 cups unbleached flour
⅓ cup finely unground walnuts
2 eggs
1 tablespoon vanilla extract
Place an oven rack in the center of the oven. Preheat the oven to 350 degrees F. Line a baking sheet with parchment paper. Place oil & sugar, eggs & vanilla in a large bowl and mix well.  Gradually add flour one cup at a time. Blend in nuts. When the dough feels smooth, roll the dough into small balls. Place small balls on a cookie sheet. Sprinkle with cinnamon. Place a walnut piece on top. Bake for 10 – 15 minutes. Cookies should be off-white (not brown).
JAPAN 
When I was in College, I took a course in Japanese Art History with an emphasis on rakuware, a famous type of Japanese pottery. This art form was highly appreciated by tea masters and was an integral part of the Japanese traditional tea ceremonies. Since then, I have been inspired by the ceremony called sado and the tea that goes with it. The movements of the person serving the tea are carefully choreographed. The preparation of the home, the order in which utensils are brought into the room, the warming of the utensils, the brewing of the tea, and the cleanup are all done in a certain way during the ceremony. The powdered green tea Matcha, is the preferred blend in these ceremonies.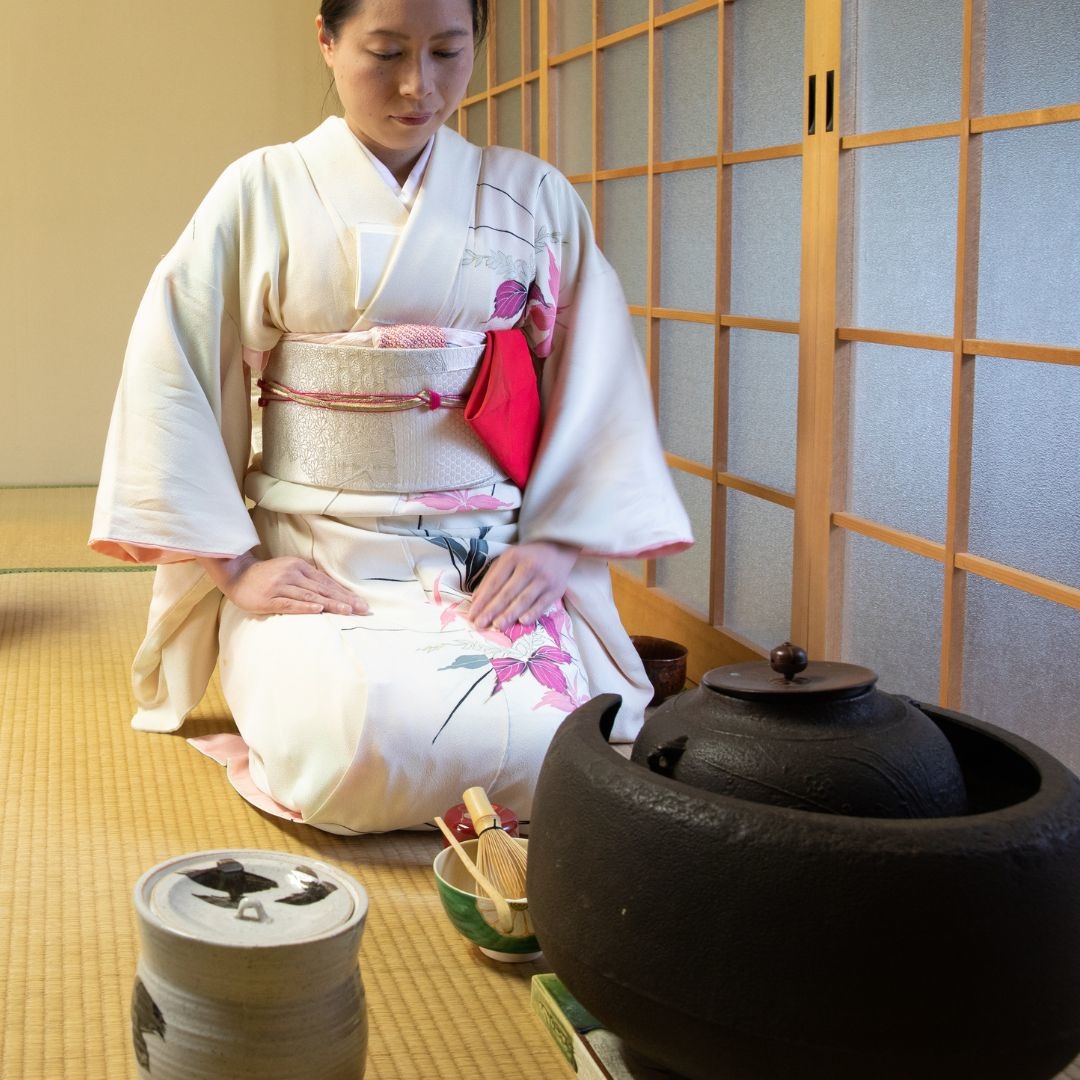 Matcha is a special type of Japanese green tea: where the tender leaves are partially shaded for three weeks before harvest, which causes the sweet and umami compounds to develop. After hand-picking, the leaves are steamed to prevent oxidation, dried, then in the final step it is slowly milled between granite wheels.
What type of Matcha should you get?  Well, the main question is: what do you want to do with it?
If you want to stay true to the ritual, ceremonial grade matcha is the way to go. It is the highest quality matcha with an extra-fine particle size, which is sweet with a low bitterness. A thick preparation (consistency of paint) is usually made.
Wakatake matcha is best enjoyed cold, shaken vigorously with ice and water in a cocktail mixer. Its crisp flavor would turn too astringent with hot water, but it remains ideal for mixing into other iced beverages, lattes and milky drinks, or for cooking and baking.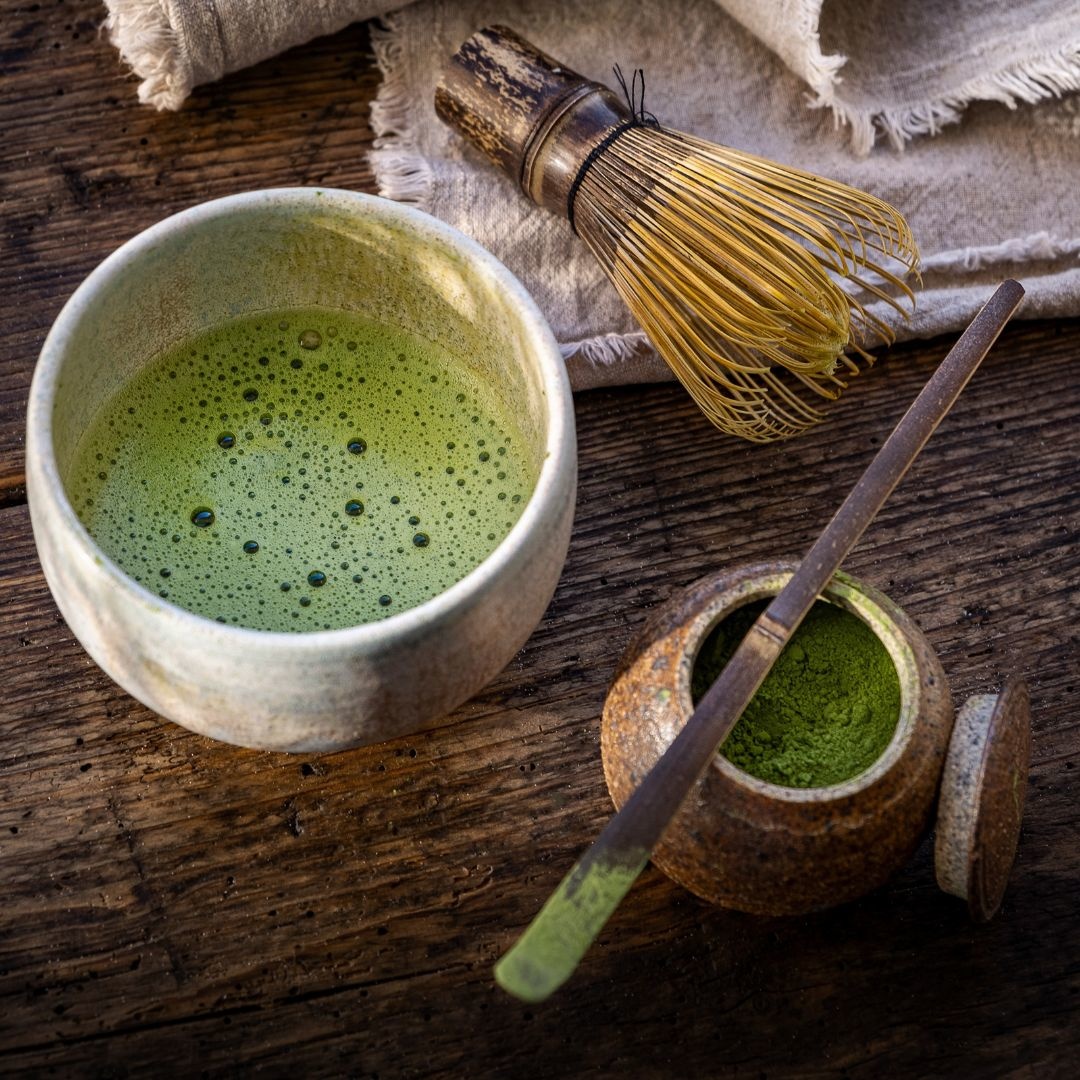 What to eat with the tea: The matcha tea in the ceremony is typically served with sweets called Wagashi to play against its bitter flavor. At home we also like to make Matcha ice cream.  
Other Japanese style tea:
Hojicha: because it is made from bancha tea stems and leaves, it's lower in caffeine with a deep nutty taste, and it pairs well with many cuisines. Originally produced in Kyoto, this style of tea was first introduced in the 1920s. It is a tea that is heavier and thicker in flavor. One of my favorites!
Sencha: is the most popular Japanese tea.
TIBET 
Po cha is the traditional tea of Tibet. During John's (co-founder of Homsted) travels in Tibet, it became a warm welcome in the cool weather and a bonus of needed calories while hiking around at high elevations.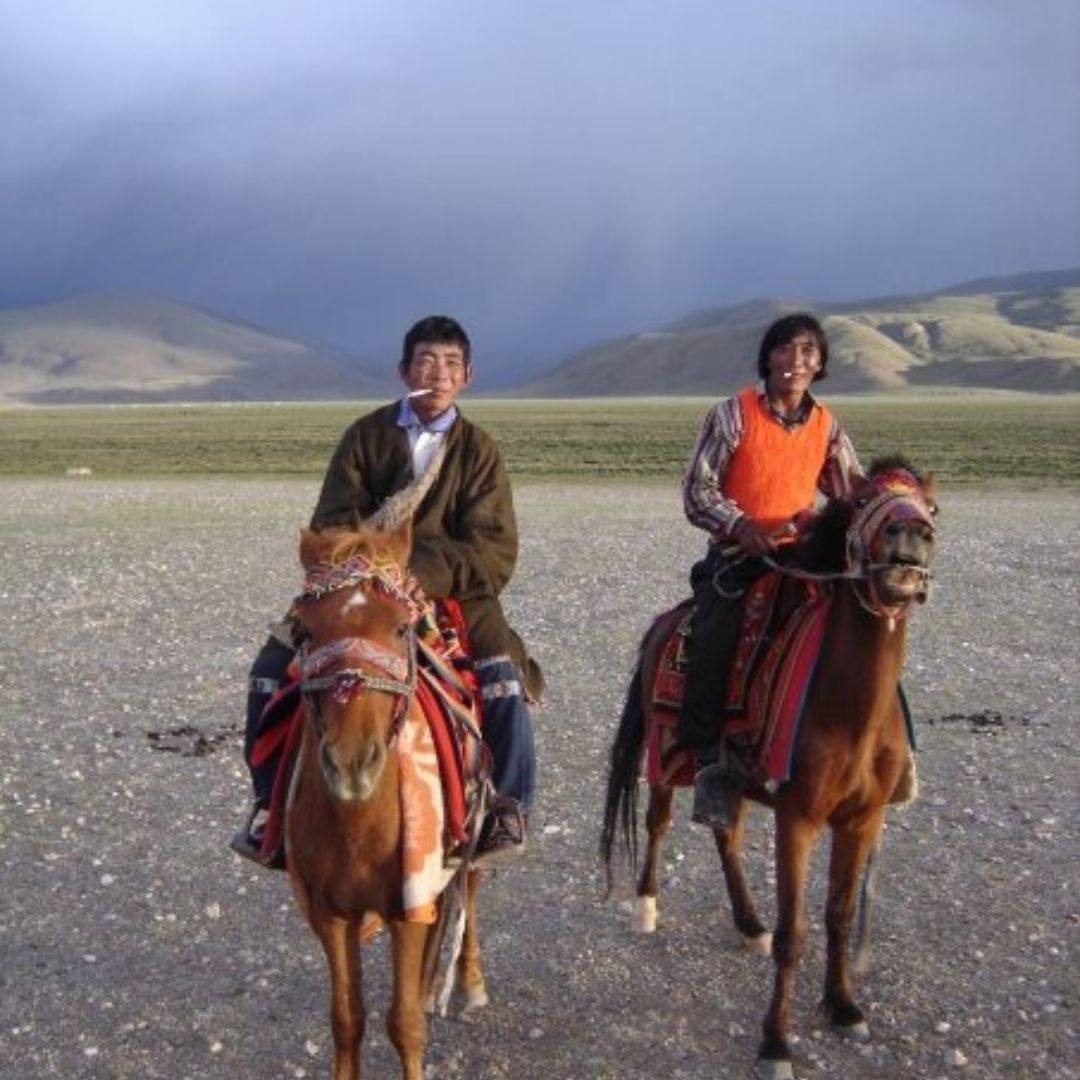 How to make Po cha:
Prepare 4 cups of water and 6 teaspoons of pu-erh. Bring the water to a boil and drop in the tea. Let the tea boil for about 3 minutes (you can adjust the tea quantity and boiling time according to your preferences). In Tibet sometimes they brew it all day long.  Add ¼ teaspoon Himalayan pink salt. Strain the tea. Add ⅓ cup milk and 2 tbsp butter (yak butter and milk is the traditional way, but cow milk and butter will do). Pour the butter tea into a jar with a well-fitting lid or blender and blend/shake until the tea is creamy and frothy (about 2 minutes). Pour into cups and enjoy!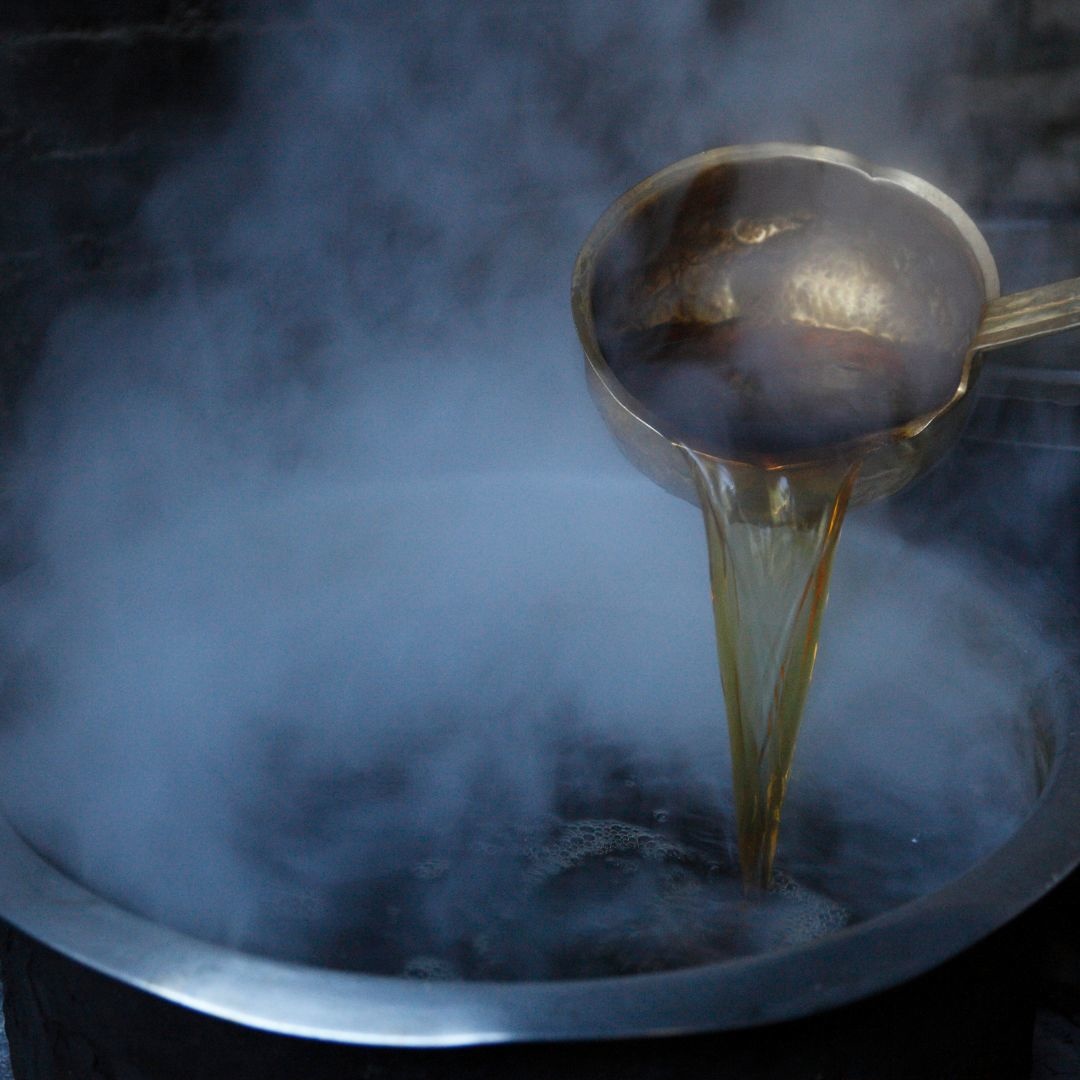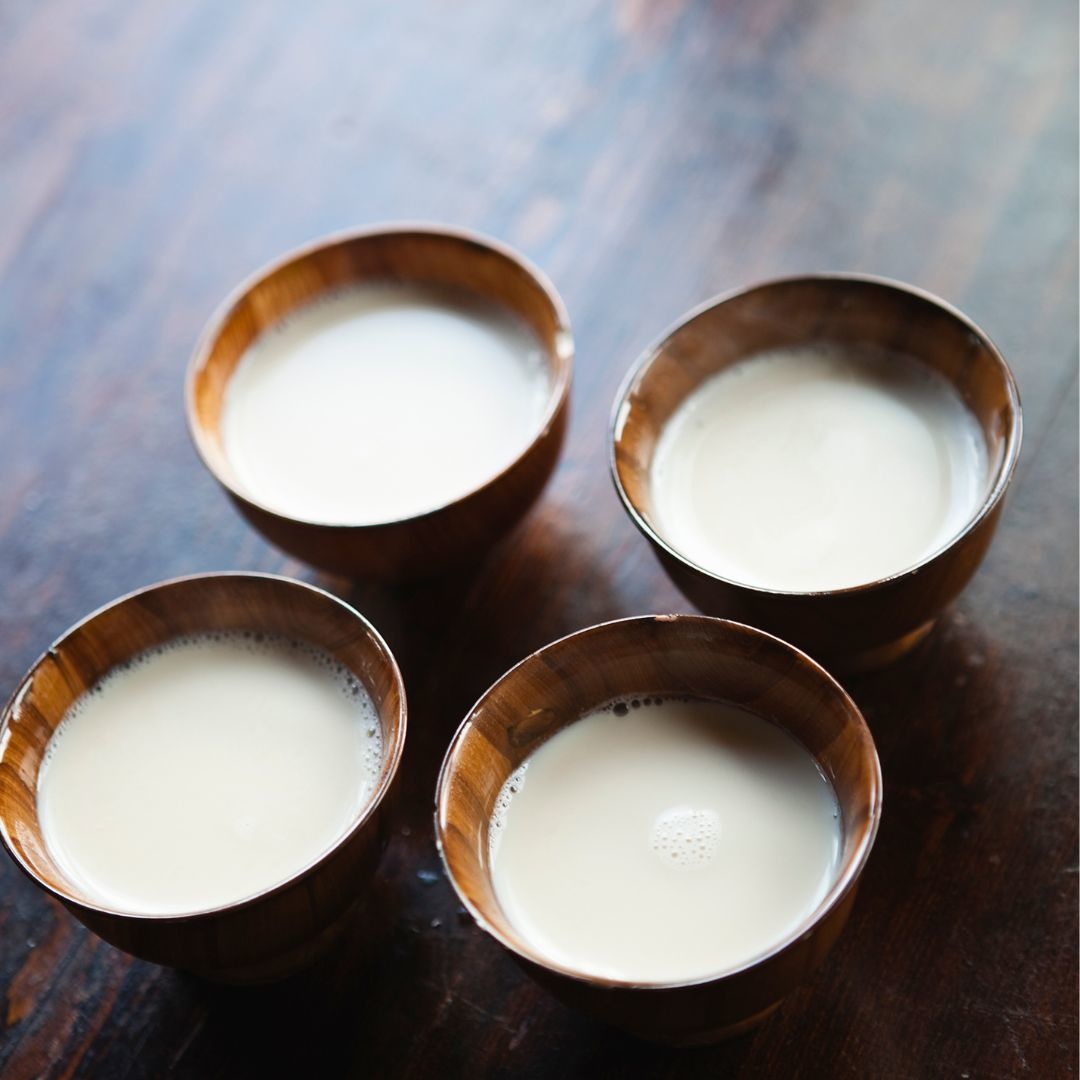 What to eat with the tea: Since this tea is consumed all throughout the day it is consumed with many traditional Tibetan meals.  One of the meals that it is frequently served with is paksuma, a rice porridge.
Paksuma 
1 cup broken rice
Pinch of salt
3 cups whole milk
½ cup packed dried apples, preferably organic, chopped into one-half-inch or smaller pieces
3 tablespoons clover or other flower honey, plus extra for drizzling
Yogurt for garnish
Bring 3 cups of water to a boil in a small heavy pot with a tight-fitting lid. Place the rice in a fine-mesh strainer and rinse with cold water. Add the rice to the pot. Bring back to a boil, then reduce the heat to medium-low and cook, covered, until most of the water is absorbed and the rice is soft, 10 to 15 minutes. Add the salt, then stir in the milk and apples. Increase the heat and bring back nearly to a boil, then reduce the heat to very low, cover, and simmer until very thick, 45 minutes to 1 hour, stirring occasionally with a wooden spoon to prevent sticking. After 30 minutes, stir in the honey. Serve with a drizzle of honey and a generous dollop of yogurt and, if desired, a bit of butter.
We hope you enjoy this window into the cultural world of tea.  Please stay tuned for our next tea adventure around the world. If you would like me to touch on a specific country and their tea in part 2, please comment below.
If you try any of these recipes, be sure to let us know in the comments below! Or even better, tag us @homsted_lifestyle to show us!!